Celebrating Thanksgiving When It's Hard to Give Thanks
Deborah J. Thompson
Thursday, November 03, 2011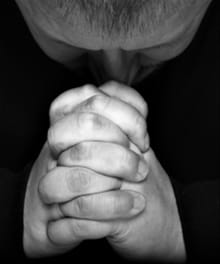 If you are finding it difficult to give thanks this holiday season, I can relate. I have found myself in a similar situation, more than once. I can't claim to know how you feel because we are all on our own unique journeys. But I do know what it is like to be so devastated, so broken, and so despondent that life seems to hold no joy, no hope and no peace. However, there are some universal truths that can serve to deliver you from that darkness.
1. God is REAL and he LOVES us.
I KNOW this because he delivered me and he showed me, step-by-step, the way out of my own darkness. He never promised us a life without trouble, but he did promise to always walk through those troubles with us. And he often uses our experiences to teach, guide and help one another along this path we call life. God's light is a welcome beacon in the darkness, guiding us to a brighter tomorrow. And God can take the most difficult and painful of circumstances and turn them around for our good and his glory.
2. Being thankful is the first step towards changing your mindset.
Start with finding something, anything for which you can give thanks. It might be as tiny as the laughter of a child, a glimpse of the sun on a cloudy day, or the warmth of a fire in your hearth on a cold one. If you make the effort, I promise — you WILL find something. Keep saying "thank you" over and over and a wondrous thing will begin to happen. You will start discovering other things for which you are grateful. Add them to your "thank you" list. Don't stop giving thanks -- make it part of your daily routine, all throughout the day, not just in the morning or at night. And when a new "something" reveals itself, say "thank you" at that moment as well. It might be as silly as the light changing to green, or as moving and meaningful as the loving gesture of a friend or family member. Train yourself to realize that each and every "good" thing in life is a reason to celebrate and give thanks.
3. Giving to others is a gift to yourself.
Make a choice to do something to help someone else. You can start small; bring your co-worker their favorite flavor from the coffee shop. Bake a batch of cookies for the neighborhood children. Even better, volunteer at a homeless shelter or soup kitchen. Join a committee for a charitable cause. Give blood, comfort babies born addicted to crack, read to shut-ins at a nursing home. ANYTHING — just venture outside yourself and give of yourself to someone else. I know it feels like your well is dry and that you have nothing left to give. But you are wrong — your pain, your despair, your circumstances make you uniquely qualified to feel compassion and understand the suffering of others.
Besides helping others, we ourselves grow and mature more from the struggles of our lives than from any other situation. It you are going through a rough period right now, use this time to develop your faith, to strengthen your weaknesses, to conquer your fears, to reach out to others who are hurting too. Believe it or not, trials and misfortunes can be gifts in disguise. They are gifts that help us to hone our coping skills, bolster our resolve and fortify our convictions. They reinforce our character and serve us well when the next challenge of our lives comes along.
"Consider it a sheer gift, friends, when tests and challenges come at you from all sides. You know that under pressure, your faith-life is forced into the open and shows its true colors. So don't try to get out of anything prematurely. Let it do its work so you become mature and well-developed, not deficient in any way" (James 1:2-4).
So as we approach Thanksgiving, use this time to be thankful for what you have rather than dwelling on what you have lost. Give of yourself — you are a carefully crafted creation with unique talents, experiences and gifts that only you can share. Seek professional counseling if you need help taking the first steps. Ask God for his guidance; he IS there and he has not forsaken you! Don't isolate yourself with pain and despair as your only companions. Seek out the company of others and surround yourself with loving, caring people who can help you to see the joy that life holds.
Have something to say about this article? Leave your comment via Facebook below!
advertise with us
Example: "Gen 1:1" "John 3" "Moses" "trust"
Advanced Search
Listen to Your Favorite Pastors