Avoiding a Generic Thanksgiving
Paul Lamey
Monday, November 19, 2012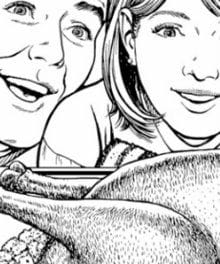 Thanksgiving Made Visible
The Church is the chosen vessel for making the praise of God visible in the world. On a few occasions, the Apostle Paul paused to offer thanks to God for the work and witness of the churches in which he ministered (see Ephesians 1:16; 2 Thessalonians 2:3). Specifically, Paul noted how their faith had been enlarged by the example of their love for one another. Their perseverance under difficulty, their faith in the midst of persecutions, and their resilience in afflictions were all visible grounds for Paul's thanksgiving. Christian, are you thankful for your church? Are you enlarging the faith of your fellow members? Are you modeling perseverance under duress? The gathered Church is the embodiment of the grace of Christ in the world. Our praises, fellowship, and various efforts for outreach are tangible expressions of thanksgiving to God.
Thanksgiving Every Day
365 days in a year offer us 365 unique opportunities to demonstrate our life in Christ. 365 opportunities to pray, to lead our family in worship, to grab a friend by the hand and pray with them, to minister to the sick, to prepare a meal for someone who is hungry, to take in a fatherless child, to go on mission, to write a check to a missionary, to roll up our sleeves and serve in the church, and 365 distinct opportunities to tell someone that "Jesus will set you free." In this way, thanksgiving is every day.
Clearly, there are many opportunities to express thanks to God. Do our various celebrations of thanks carry the distinct aroma of the glories of Christ? For the Church, thanksgiving is every day. After all, her name is "thankful."
Here are a few ideas for incorporating thankfulness into your Day of Thanks:
· Read or sing Psalms of thanksgiving (Psalms 9, 30, 32, 34, 40, 41, 92, 103, 107, 116, 138).
· Pray through Ephesians 1:3–10 and discuss with friends and family what Christ has done in your life this year.
· Sing or listen to Charles Wesley's hymn "O for a Thousand Tongues to Sing."
· Have each person detail something they are thankful for and then use the opportunity to pray and give thanks to the Lord.
· For small children, have them create a picture or a craft that demonstrates the practice of thanksgiving to God.
· Serve someone in physical and/or spiritual need whether in your local church or in your community (nursing home, hospital, shelter, etc.).
Dr. Paul Lamey is Pastor of Preaching at Grace Community Church, Huntsville, Alabama. He and his wife, Julie, have four children. You can read more from Paul at his blog, expository thoughts and follow him on Twitter @paulslamey.
---
[1]Gerald Bray, God is Love: A Biblical and Systematic Theology (Wheaton: Crossway, 2012), 35.
[2]Ibid.
Have something to say about this article? Leave your comment via Facebook below!
advertise with us
Example: "Gen 1:1" "John 3" "Moses" "trust"
Advanced Search
Listen to Your Favorite Pastors