Father's Day, or Thanksgiving? A Retrospective
Shawn McEvoy, Editor, Crosswalk.com
Thursday, June 08, 2006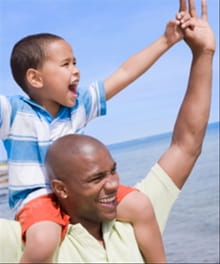 I will rejoice for He has made me glad.
Make no mistake – I'll never be happy that five years ago, my father passed on at age 57. I am not exuberant that he did not get to know his incredible grandchildren, or give his daughter away on her wedding day. I ached for his father, who had already lost a young wife to cancer and his eldest son to a car accident in the prime of life. I still haven't grasped the void he left in the lives of his fishing buddies or his work community. I never wished for my mother to enter her golden years without the love of her life beside her. And yet ...
I had joy then, even as I delivered my father's eulogy, and I have joy now.
God rejoices in the coming home of His saints, even if those who knew my father understand that by some definitions, he was no saint. But this was a man -- my best man -- who came to know the truth of grace, who experienced no fear or pain in encountering death, and whose final days were made comfortable by knowing it hasn't even entered into the heart of man what God has in store for those who love Him (1 Cor. 2:9).
I've come to see that Dan McEvoy was a lot of things to a lot of people who still feel the void he left. This history has allowed me to see a lot of outpouring, the greatest of which was the phone call we received in the hospital from an old friend. My father's liver had been conquered by melanoma which had metastasized. When Mrs. Miller – a woman of my grandmother's generation – telephoned to say her good-byes, she tearfully asked whether there was any way Dan could keep living if she donated her own liver. I'm not even sure of the ethics there, and we were beyond the help of a transplant, but all I could focus on was: Greater love has no one than this, than to lay down one's life for his friends.
And so, I remain thankful. And as I tell you why, I hope you'll not only follow Paul's lead to "rejoice with those who rejoice," but that no matter how good, rotten, or unfair your own situation has been with your own father, you'll find cause for gratitude.
In 1997, my father finally decided he needed a Lord and Savior. This was the only prayer I ever really begged God to answer for me, and He came through, not in my time, but in His time. After he made that decision, I knew my faith would be such that whatever happened, whenever it happened, the rest of my life, I would be okay.
With item number one of thanksgiving in place, I am able to say I am also overflowing with thanks for these things:
I am thankful that Dad was the best man in my wedding, and put his hand on my shoulder during the ceremony.
I am thankful that my parents stayed together, especially considering it was Christianity that almost broke them up in the early 80s. They not only endured that rough spot in their marriage, they made it better, loving each other "more than yesterday and less than tomorrow" right up until the end.
I am thankful that my friends Jay and Bill considered "The Danner" a second father.
I am thankful for Christmas 2000, when our family rented a mountain cabin and had our best Christmas ever – our last Christmas with the glue that bound all the crazy personalities together.
I am thankful that we cheered my sister as she walked across the stage to complete her degree, and that Dad got to read the essay I wrote about his life and our relationship for one of my graduate courses.
I am thankful for the way my mother's mother and sisters adored my father, and were never shy in telling me about it.
I am thankful my father gave me everything I needed growing up, and everything I need to go on. As I told him in the inscription to a book I gave him, "you have shown me the ways to be strong, now perhaps you can also show me the strength of being weak." He did.
Have something to say about this article? Leave your comment via Facebook below!
advertise with us
Example: "Gen 1:1" "John 3" "Moses" "trust"
Advanced Search
Listen to Your Favorite Pastors