Father's Day, or Thanksgiving? A Retrospective
Shawn McEvoy, Editor, Crosswalk.com
Thursday, June 08, 2006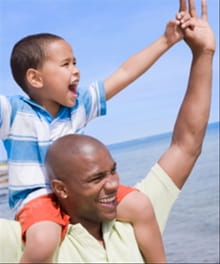 I am also thankful for the little things: Post-Thanksgiving "turkey sangs" … playing catch by the pool ... the "let's-do-it" support when I announced I wanted to stay out of school a year before attending a small Baptist college in Oklahoma (although hearing the words "full tuition" didn't exactly make this hard thing for him) … the somber day we spent in Dallas touring the JFK assassination site … every fishing trip we took. I am even glad I never beat him at tennis.
I am extremely grateful for the eight full days we spent laughing, crying, thinking, praying and just being quiet before he died. We agreed that regardless of whenever either of us were to leave this earth, there was naturally a finite amount of time we could possibly spend together, and so sometimes we just sat, and we loved it. He asked me how I could bear to continue to wipe down his face, or help him move in bed. I got to tell him that I was certain a year from now I would give anything to wring out his washcloths just one more time.
Mostly, I am thankful for the stories and the memories we have and which we shared with each other during our final days. I'd like to tell you two of these.
One day when I was very young, my father and my aunt were tanning beside our pool. I had been playing on the steps. My aunt suddenly realized the splashing she was hearing was not a good sign. They noticed me floating face down in the water. Dad jumped in and yanked me up, only to see me spit water and say, "That was fun; let's do it again!" I am not sure why this story was so special to Dad (after all, he got in trouble), but he told it often. Maybe it was his reminder of fragility, love, and responsibility.
In any case, 13 years later it was my turn to pluck him from the water. We had taken a friend's pop up trailer to Arizona's Roosevelt Lake. We had just set up camp and rented our pathetic little aluminum boat with the outboard motor. We were preparing to head out for "the evening feed," when I saw a light bulb go off over my father's head.
I could tell his back was not up to an evening of sitting on the hard metal benches that pass for seats. He ran to the campsite, and returned with a folding lawn chair which he smugly placed over the middle bench. He sat down, facing the rear of the craft, and said, "You'll have to drive, Shawn-o, heh heh." He had his fishing pole in one hand, a silver bullet in the other, a big grin on his face, and on his head, a cheap ball cap he had bought at a convenience store that morning which simply said, "Captain." How apropos.
As we made our way out of our cove and past the no-wake buoys, the wind began to whip up some whitecaps on the water. As soon as we were past the buoys, I revved the motor, and accidentally turned the rudder to starboard just as a wave struck the port side of the boat. Wham! We went perpendicular to the water before the boat slapped back to the surface. I looked up, relieved, until I noticed The Captain was no longer in the boat!
His fishing gear was still there, his beverage was unharmed, and his ridiculous throne was still upright, but he had abandoned ship, and was now floating somewhere behind me as the boat continued to surge forward. Now I did a very odd thing. Instead of simply circling back in a wide arc to get him, I panicked and hit the kill switch on the motor. Now stopped, I could hear a faint voice crying over the waves, "Shawn-o, come baaaaccck!"
"I'm trying – I can't get the motor restarted!"
(Long pause) … "Row!"
So I tried to row, but the waves were pretty strong and the oars did not fit the oarlocks properly. Dad lost his shoes, his glasses, and the old-lady style sunglasses that he wore over his eyeglasses, and swam to a buoy. I eventually got the motor restarted, and went to pick him up. He got in the boat, still wearing his captain's hat, and we went to a cove to start fishing. Nobody said anything.
Have something to say about this article? Leave your comment via Facebook below!
advertise with us
Example: "Gen 1:1" "John 3" "Moses" "trust"
Advanced Search
Listen to Your Favorite Pastors