How to Turn Thanksgiving into Thanks-living
Adrian Rogers, Love Worth Finding
Saturday, November 03, 2007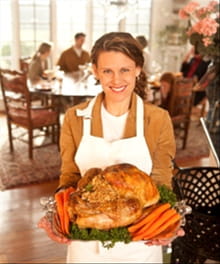 "Oh, that men would praise the Lord for His goodness and for His wonderful works to the children of men and let them sacrifice the sacrifices of thanksgiving."
If you don't mind writing in your Bible, would you underscore those phrases right there: "The sacrifices of thanksgiving" and "Declare His works with rejoicing"?
It has been said that talk is cheap. We thank the Lord and we say Lord, we're so thankful, we're so grateful for all that you've done for us. Well, do you know what we need to do? We need to turn Thanksgiving into Thanks-living. That is, to offer to God the sacrifices of thanksgiving.
Now, if we're thankful it really ought to show in our lives, and by the way, I don't believe that there's any other sin quite like the sin of ingratitude. Shakespeare said, "How sharper than a serpent's tooth it is to have a thankless child." Those of you who have loved and labored and invested much in the health and lives of your children know how grieved you are when your children do not seem to appreciate or to be thankful for the sacrifices that parents have made. Mothers who have gone down in the valley of the shadow of death to bring these precious children into this world and dads who have labored long and hard, what a sacrifice.
And I think Shakespeare was right. The poet Milton, the blind poet, he said that a person with an ungrateful spirit only has one vice, he said because all of the rest of his vices are virtues compared to ingratitude. Every other sin is a virtue compared to the sin of ingratitude.
How terrible not to be grateful to God, and yet in America all around we can find those who are grumbly hateful rather than humbly grateful. Well, how can we translate our Thanksgiving today into Thanks-living? Well, we're to offer to God what the bible calls the "sacrifices of thanksgiving."
Now, over in First Peter chapter two, don't turn to it, but First Peter chapter two tells of those of us who are saved are priests. You're looking at a Baptist priest. Have you ever seen a Baptist priest before? I'm a Baptist priest, and you're a priest. Now, I don't walk into my collar, I back into my collar, but I'm still a Baptist priest, and you are a priest. All of those of us who are saved are priests of God, and every priest ought to be able to offer sacrifices to the Lord. Peter tells us that because we're priests, we're to offer up spiritual sacrifices.
I've gone through God's word and I've found five spiritual sacrifices, sacrifices that you can offer all this week and the rest of your life as unto the Lord. I'm going to call them today the sacrifices of Thanksgiving and I want you to make a little checklist, maybe put it in your Bible, and see, "Am I continually offering to the Lord these five spiritual sacrifices that we're going to call today the sacrifices of Thanksgiving?" because I want say again that talk is cheap.
You can say, "Oh we're thankful and eat a big meal and watch football." Now, folks, it ought to go a little further than that. You ought to have more in your Thanksgiving than stuffing yourself and then becoming a couch potato. You need to do something else besides that in order to show how thankful to God you are.
We're going to do a little Bible searching. Let's turn first of all to Romans chapter twelve, and I want to talk to you about presenting yourself as a sacrifice. Romans chapter twelve, there is what I'm going to call the sacrifice of your very person, of yourself.
Look if you will in verses 1 and 2: "I beseech you therefore brethren by the mercies of God that ye present your bodies a living sacrifice wholly, acceptable unto God which is your reasonable service, and be not conformed to this world but be ye transformed by the renewing of your mind that ye may prove what is that good and acceptable and perfect will of God."
Have something to say about this article? Leave your comment via Facebook below!
advertise with us
Example: "Gen 1:1" "John 3" "Moses" "trust"
Advanced Search
Listen to Your Favorite Pastors