How to Turn Thanksgiving into Thanks-living
Adrian Rogers, Love Worth Finding
Saturday, November 03, 2007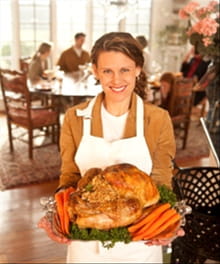 I found a verse that proves that. Psalm 69, verses 30 and 31, don't turn to it, let me read it to you. "I will praise the name of God with a song and will magnify Him with thanksgiving. This also shall please the Lord better than an ox or a bullock that have thorns and hooves."
Do you know how much an ox was worth in this day? That would be like your going and saying, "I'm going to give my car. I 'm going to give my Cadillac. I'm going to give my Oldsmobile." An ox was extremely valuable. A man who had an ox was a wealthy man, but God says here that your praise, your psalm of thanksgiving will please the Lord more than your material gifts.
Now, I want to tell you that praise is no substitute for your material gifts, and we're going to see that later on, but I'm saying this morning, if you could only understand how important your praise is and your praise ought to be a way of life.
Look at our verse again, verse 15. "By him therefore let us offer the sacrifice of praise to God." What's that next word? Continually, continually. Listen to me. You do not come to church to praise the Lord. You're to bring your praise with you to church. You don't commence your praise here. You continue your praise here. You are to praise the Lord continually, and the reason that some of us do such a poor job of praising God when we come to church to praise him corporately is we have been praising him privately.
Psalm 34, verse one. "I will bless the Lord at all times. His praise shall continually be in my mouth." And we're to come to the Lord's house today and just worship the Lord, and we're to worship Him, not grudgingly. Nobody ought to have to beg us to sing. Brother Whitmire, it ought to break your heart that you should have to stand before a congregation of people who are suppose to be saved and know Jesus and plead with them to worship, beg them to sing. No wonder the songwriter said, "Let those refuse to sing who never knew our God," That you should have to be coerced to sing. The Bible says in Psalm 119:108 "Accept, I beseech thee, the free will offerings of my mouth." The free will offerings of my mouth. God help us to offer to him the sacrifice of praise.
Now, there's a third sacrifice I want to mention. First of all, remember we give our bodies as a living sacrifice, that's our person. Secondly there's the offering to God, the sacrifice of praise, that's just the fruit of our lips, continually. It means more, ladies and gentleman, than your giving your wealth. It is to give your worship to our great God.
Now, here's the third thing and very closely akin to our praise but not exactly the same is our prayer, our prayer. That's the third sacrifice of Thanksgiving, and that is our prayer--our person, our praise and now our prayer.
Let me give you the verse, are you ready for it? Psalm 141:2. Listen to it, listen to it, "Let my prayer be set forth before thee as incense." Now, if you again don't mind marking your bible, underscore the word incense, "and the lifting of my hands as the evening sacrifice." There's our word sacrifice again. In all of these scriptures we have the word sacrifice. Psalm 141:2. "The lifting of my hands as the evening sacrifice."
Now, your prayer is to be like two things. Number one, it is to be like incense, and number two, it is to be like the evening sacrifice. Now, what does this mean? What is incense? Incense is perfume that, in order for that perfume to be released, it has to be put on the fire. It is burned, and as it is burned, the aroma is perfume that just goes up in smoke.
Now, your prayer ─ the Bible tells us in Revelation chapter five that the prayers, that incense is the prayer of the saints. Incense in the Old Testament that ascends, that sweet smelling smoke that goes up is like our prayer that goes up to God.
Have something to say about this article? Leave your comment via Facebook below!
advertise with us
Example: "Gen 1:1" "John 3" "Moses" "trust"
Advanced Search
Listen to Your Favorite Pastors