How to Turn Thanksgiving into Thanks-living
Adrian Rogers, Love Worth Finding
Saturday, November 03, 2007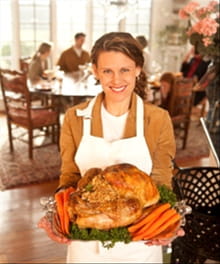 You are a priest. You are a priest. Did you offer any incense this morning? Morning and evening the priest would go into the tabernacle to trim the lamps. Have you been in there yet? I mean, you say that you love God. You say that you belong to Him. You say that you are a priest. Have you offered the sacrifice of prayer? That's a sacrifice, not just coming to God to get things done. Oh, friend, listen to our verse again. What a beautiful verse it is. Psalm 141:2, "Let thy prayer be set before thee as incense and the lifting up of my hands as the evening sacrifice."
Isn't that beautiful? Ha, the lifting of my hands is the evening sacrifice. Oh, God, just as that Old Testament priest would go in there the evening to trim the lambs, oh God, I want to go in. I want to enter into that Holy of holies, and God, I want to just lift my hands, spread my hands to you as, dear Lord, the evening sacrifice. Incense with strange fire was judged, incense with no fire is useless, that fire pictures what Jesus did for us on the cross.
All right, now, let me mention the fourth sacrifice. The first one, what was it? Our bodies, that's our person, the second, our praise, the fruit of our lips. The third, our prayer, the fourth of these spiritual sacrifices is our possessions.
Now, don't think because something is spiritual that it is has to be immaterial. We are to give our possession. Now, you're in Hebrews chapter thirteen and we read verse fifteen that speaks of the sacrifice of praise. Now, Hebrews chapter thirteen, turn back to it, yes, we've already left it, turn back to it. Hebrews chapter thirteen and verse sixteen, let's look at it. "But to do good and communicate forget not, for with such sacrifices God is well pleased." There again he uses the word sacrifice. Now, remember we're to offer the sacrifices of Thanksgiving, OK?
Now, look at it again. "With such sacrifices God is well pleased." What does the word communicate mean anyway? Does it mean to write letters to someone? Does it mean to call someone on the telephone? Well, the old King James says to communicate, so I looked it up last night in four different translations, four other translations than the King James.
One translation gives this word communicate to distribute, the other gives it to share. Another gives it to be generous, the other gives it to be liberal. So to distribute, the share, to be generous, to have a liberal spirit, that's what it means to communicate, not just to talk to people.
It means to take our material possessions, the things that God has given us, and when we come to church or when we give by whatever means or whatever mode, when we give, it is to be a spiritual sacrifice. The apostle Paul received a missionary gift from the church at Philippi, and he wrote back and said in Philippians chapter four, verse eight, "The gifts that were sent from you were a sacrifice acceptable, well pleasing to God."
And so, today you want to show your thanksgiving, show it in your giving. Does your giving really show what you think of God? It really does whether you think it or not. You know, there are some folks who come to church on Sunday and they give God a tip. They give God the crumbs. They give God the leftovers.
Do you know what a lot of folks do? I mean, they literally do this. They have their budget, they get the budget out and they say alright, we've got so much for the house payment. We've got to pay that. So much for the utilities, we have to pay that. So much for the car payment, we've got to pay that. So much for Sears, we've got to pay that. That much for so and so, let's throw Goldsmiths in, everybody can have a chance. And Dillard's, I'll quit right here, and we've got to pay that. And so we've got all these things we have to pay. Then there's, you know, tuition and these things, and they say now what's left? What's left?
Have something to say about this article? Leave your comment via Facebook below!
advertise with us
Example: "Gen 1:1" "John 3" "Moses" "trust"
Advanced Search
Listen to Your Favorite Pastors