Make the First Thanksgiving Real to Your Children
Barbara Curtis, Crosswalk.com Contributing Writer
Thursday, November 03, 2011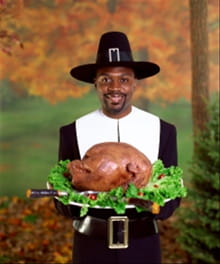 Three Young Pilgrims, Cheryl Harness, Alladin Paperbacks, 40 pages, ages 4-8:
Richly detailed, engaging illustrations of the Mayflower voyage, the first wedding at Plymouth, the Indians, the harvest. Language-rich, child-friendly format.
Hear It
The Legend of Squanto, Paul McCusker, Focus on the Family Radio Theater, 2 CDs or audiocassettes:
Focus says: "More than a story about an honest man who triumphed over tragedy. It is also a tribute to forgiveness, integrity and the ability to look beyond the color of a man's skin."
Sing It
Traditional Thanksgiving Hymns To Teach Your Family
Come, Ye Thankful People, Come
Now Thank We All Our God
We Gather Together
We Plow the Seeds and Scatter
Hear the tunes, find all the verses, and learn the origins of these and other hymns at Cyberhymnal.
See It In Your Own Lives
Five Kernels of Corn
The year following the first Thanksgiving brought greater hardship than the first. During the Starving Time, according to tradition, the Pilgrims had only a daily ration of five kernels of corn apiece. Still, they did not give in to bitterness, but trusted their Lord.
Many families now practice this tradition: Beside each place at the Thanksgiving table are five kernels of dried corn. During the meal, a special cup is passed to each member of the family. Each drops a kernel into the cup while sharing something for which he is grateful.
Our family loves this tradition, as even the youngest can participate!
Thanksgiving Every Day
The first Thanksgiving was a joyful celebration -- but so much more. For though the Pilgrims had much to be thankful for -- the shelters they had built, the successful harvest, their good relations with the Native Americans -- all were still grieving the loss of fathers, mothers, brothers, sisters.
So it's about more than giving thanks. It is about giving thanks in all circumstances. That's something uniquely Christian. What scriptures were the Pilgrims thinking of? Perhaps Nehemiah 8:10: This day is sacred to our Lord. Do not grieve, for the joy of the Lord is your strength.
The Pilgrims' lives -- their courage, perseverance, and joy -- show them to be not just hearers of the Word but doers as well. Remembering each Thanksgiving how they chose to celebrate God's goodness and continue to trust him with their own lives challenges us to do the same each day.
Barbara Curtis has 12 children -- including three adopted sons with Down syndrome -- and 10 grandchildren so far. She is also an award-winning author with nine books and 800+ articles in print publications including Focus on the Family, Guideposts, Christian Parenting Today and The Washington Times. Barbara is a popular speaker at MOPS and women's events, as well as writers' conferences. Online you can find her at MommyLife and Mommy, Teach Me!
Publication date: November 17, 2008
Visit Crosswalk's Thanksgiving Facebook page at www.facebook.com/iAmThankful.
Have something to say about this article? Leave your comment via Facebook below!
advertise with us
Example: "Gen 1:1" "John 3" "Moses" "trust"
Advanced Search
Listen to Your Favorite Pastors