Taste and See that The Lord is Good
Jessica Gavin, Blogger, 52Prayers.com
Friday, November 16, 2012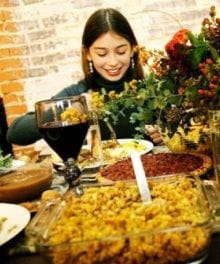 First, I thanked Him for the interest my family has shown in knowing Him more fully. Then, I spent a good deal of time thanking Him for my husband. Patrick has been so incredibly supportive of my Christian walk that I am overwhelmed by the love he's shown me. For someone who doesn't read the Bible every day or spend much time in prayer, my husband certainly loves like a faithful Christian. I then brought before the Lord my request. I asked that He reveal to me the next steps in my life. Is it children, God? Then I will grow a family who walks in Your ways. Is it a job? Then show me one that glorifies You and I will take those paychecks and grow your Kingdom. Should I start a new blog project? Do missionary work? Look to do Bible studies with others? Whether it's serve just one person or tell my testimony to millions, Lord transform my heart and make it one with Christ so I may do Your will on earth. I literally begged, "Please, Lord, lead me to what You'd have me do. I humbly give my life to you. Do as you wish."
I sat there quietly praying on my knees and slowly, tears of joy began to stream down my face and great emotion overcame me. I pictured myself kneeling at the foot of the cross. I felt such gratitude for the sacrifice that He made that I wept with gladness. The words, "These are the prayers that are sweet to my ears" gently spoke to my heart. I remained in kneeling position and sat without thought, marinating in the Spirit. I didn't analyze what that statement meant or ponder where it was coming from. Instead, I sat in silence, and allowed the love of God to fill me. A few moments later I offered up a joke to God. "I knew I was right about You appreciating our prayers!"
Within 48 hours of pleading with God that His will be done through me, I believe He has already started to open doors for me. (No Mom, sorry. I'm not pregnant.)
I am however hungry to share the love of Christ with the people I meet. I would even use the phrase, I am burdened to do so. I think that's what a calling must feel like. It's almost as though if I don't share with people the Good News that God won't give me rest until I say "Yes" to doing so. It makes me think of that scene from Ghost where Patrick Swayze won't stop singing the Henry the 8th song to Whoopie Goldberg until she does what he asks. If you don't get that reference, it's one of those had to be there things…..
So today Christianity doesn't stink. Actually, today it's better than it's ever been before. I guess God rewards faith and obedience after all.
I am moving forward with whatever door He opens for me next. Even though I don't know where I'm headed, I'm goin' places. I'm going to let Him guide my steps as I put one foot in front of the other and just keep on walking. My soul is truly boasting in the Lord. And oh man, that's just something to be so incredibly thankful for. To get what I'm experiencing today, read Psalms 34 David has a way of saying it much better than I do.
This post appeared originally on 52 Prayers. Used with permission.
Jessica Gavin is a freelance writer, wife, new mother, and follower of Jesus living deliberately in Richmond, VA. Sincerely curious about world religions, she embarked on a blog project called "52 Prayers" where she vowed to attend a different house of worship each week for a year in search for the truth about God. After a year of wrestling with theology, Jessica found herself at the foot of the cross, smitten with a man from Galilee. Her project drew an international following and she was featured in Skirt! Magazine and on WRIC's morning show. A lifelong fan of studying human potential, Jessica frequently facilitates coaching workshops and goal-setting groups in her area. You can reach her online at www.52prayers.com.
Publication date: November 16, 2012
Have something to say about this article? Leave your comment via Facebook below!
advertise with us
Example: "Gen 1:1" "John 3" "Moses" "trust"
Advanced Search
Listen to Your Favorite Pastors