Thankfulness for Thanksgiving
Sarah Hamaker, Crosswalk.com Contributing Writer
Monday, November 07, 2011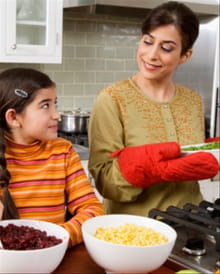 A walk through a JC Penney department store in late October proclaimed the Christmas holiday in full swing. Garlands with red and green balls dangled from the ceiling and Santa references adorned walls and displays. One would think December 25 mere days away instead of eight-plus weeks in the future.
With more retailers pushing Christmas by putting up decorations and advertising holiday items before Halloween, the November holiday of Thanksgiving has been pushed to the margins of our busy lives. "I think what has happened is that we have put the 'holidays' into one big blob," says Judy Christie, author of Hurry Less, Worry Less at Christmas: Having the Holiday Season You Long For. " We tend to always be looking ahead — we don't enjoy each moment the way we could. … It's really part of our culture to rush ahead."
First Thanksgiving
Over the years, the original religious meaning of Thanksgiving has been vanishing from the day, along with its place as a separate holiday. Today's Thanksgiving feasts now usually consists of lots of food, fellowship and football. Less emphasis is on thanking God for his good providence in the lives of the participants. This is a marked departure from the early celebrations, which were tied to gratitude of God's mercy and provision.
Indeed, the whole purpose of the first Thanksgiving was to give thanks to God for a successful corn harvest. On a November day in 1621, Pilgrims from Plymouth Colony in Massachusetts invited the Wampanoag Indians to share a feast. That celebration, which became known as America's first Thanksgiving, was followed by a second celebration two years later to give thanks to God after the end of a long drought. Throughout the New England colonies from that time onward, days of thanksgiving and fasting to God were held annually or occasionally.
In 1789, President George Washington established the new nation's first Thanksgiving. Twenty-eight years later, New York was the first state to officially mark an annual Thanksgiving holiday. In 1863, during the midst of the Civil War, President Abraham Lincoln established Thanksgiving as a national holiday the last Thursday in November.
That practice continued until 1939 when President Franklin D. Roosevelt switched Thanksgiving to a week earlier in an effort to jumpstart retail sales for the Christmas holidays during the Great Depression. However, backlash against the change had Roosevelt signing a bill in 1941 to move the holiday back to the fourth Thursday in November, where it resides to this day.
"Thanksgiving is one of the purest holidays," says William Thrasher, a graduate professor of Bible and theology at Moody Bible Institute and author of Putting God Back in the Holidays. "Thanksgiving doesn't have the clutter that other holidays have."
The day set aside to give thanks has no presents or much in the way of decorations associated with the holiday. "We should consider Thanksgiving as the beginning of the season of celebrating God's abundance. We should treat Thanksgiving as a day of conversation and family time," says Christie.
A Thankful Heart
Lately, people have begun viewing Thanksgiving as the beginning of the Christmas holidays. Thanksgiving doesn't have to be a "negative trigger" for the approaching Christmas season, says Christie. "I like to think of it as the perfect day to change your outlook."
With a little planning and thought, we can turn Thanksgiving into an attitude check for the rest of the year. "Thanksgiving heralds a really special time of the year," says Christie. "We can use preparations for Thanksgiving as a way to identify what our priorities are and make decisions that align with our priorities."
Have something to say about this article? Leave your comment via Facebook below!
advertise with us
Example: "Gen 1:1" "John 3" "Moses" "trust"
Advanced Search
Listen to Your Favorite Pastors