Thankfulness for Thanksgiving
Sarah Hamaker, Crosswalk.com Contributing Writer
Monday, November 07, 2011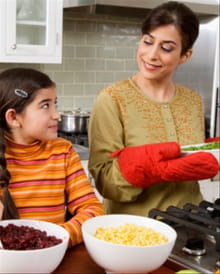 She suggests making a list now about how you want Thanksgiving and Christmas to look and feel like. "Think about how you want your year to end," says Christie. "Thanksgiving is the start of a season full of joy and peace, so jot down some words to describe the season and write down what you're thankful for."
Here are some more ways to recapture the true meaning of Thanksgiving.
Focus on praise. Giving God praise can take the spotlight off of ourselves. "Scripture says we should praise God," says Thrasher. He recommends using Bible verses, such as those from Romans 5 and 8, and Ephesians 1, to "prime the pump" of praise.
Expect things to go right. How many times do we approach Thanksgiving and Christmas thinking about all the things that could go wrong? Reorienting our thinking can make the season less stressful and more meaningful. "I'm a big believer in getting rid of Murphy's Law that says 'anything that can go wrong, will go wrong,'" says Christie. "How many of us focus on that instead of teaching our families to focus on anything that can go right, will go right?"
Write thank-you notes. Use November to write letters of thanks to those who have done something for you that you appreciated. Even children can find this activity rewarding, and you may be pleasantly surprised at what they are thankful for.
Have a prayer of thanksgiving before meals. Asking God to bless our food and families might seem like a no-brainer, but can be one of the things lost in our busy days. "That's very simple, but in our rushed lives, it's very easy to overlook," says Christie.
Hold off on Christmas decorations. Don't put up Christmas decorations until after Thanksgiving. "Doing Christmas decorating earlier doesn't allow you time to savor Thanksgiving," says Christie.
Count your blessings. Even if things are less-than-ideal now, most of us have things—both big and small—for which we can give thanks. "Two years ago on the day before Thanksgiving, my daughter was in an accident that nearly took her life," says Cherilyn Fienen of Independence, Kan. "So the following year, I made a very big deal about Thanksgiving to celebrate the anniversary and to give thanks for her life."
Give of yourself. Whether it's helping out a neighbor or fellow church member in need or volunteering at a soup kitchen, serving others "makes our time more fulfilling and meaningful," says Christie. Even if you can't give monetarily, giving of your time can be a blessing to others during the holiday season.
Putting Thanksgiving in its proper place can help us to enter the Christmas season with a more joyful and relaxed attitude. "Thanksgiving is something we have to embrace ourselves," says Fienen. "We have to make it as big and special as Christmas with our own Thanksgiving traditions and fun."
"Even on our worst days, most of us have been given more than many people in the world," reminds Christie. "I think Thanksgiving is an important day because it allows us to say 'thank you' to God for all we have been given."
Sarah Hamaker is a freelance writer and editor, and author of Hired @ Home: The Christian Mother's Guide to Working From Home. She lives in Fairfax, Va., with her husband and four children, and is looking forward to savoring Thanksgiving with her family. Visit her at www.sarahhamaker.com.
Visit Crosswalk's Thanksgiving Facebook page at www.facebook.com/iAmThankful.
Have something to say about this article? Leave your comment via Facebook below!
advertise with us
Example: "Gen 1:1" "John 3" "Moses" "trust"
Advanced Search
Listen to Your Favorite Pastors