Thanksgiving: Celebrating Divine Goodness
Deborah Wuehler, Devotional Editor, The Old Schoolhouse Magazine
Wednesday, November 02, 2011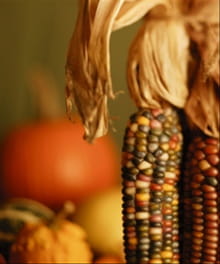 We cannot go through the month of November without thinking, "I have so much to be thankful for!" But, instead of thinking the same old Thanksgiving thoughts, I want to encourage you to look at Thanksgiving in a slightly different way this year.
Noah Webster was a man who knew his own history. In his 1828 dictionary, he defined Thanksgiving as: "The act of rendering thanks or expressing gratitude for favors or mercies; 2) A public celebration of divine goodness; also a day set aside for religious services, specially to acknowledge the goodness of God, either in any remarkable deliverance from calamities or danger, or in the ordinary dispensation of his bounties."
A celebration of divine goodness and remarkable deliverance. These concepts were probably at the root of the feelings of gratitude in the pilgrims. I believe they were more than simply thankful for their families, friends and their feast. I believe it touched those things but also went much deeper than that. I believe they were thankful for the God of their feast. Sounds like a no-brainer, doesn't it. Of course they were thankful for their God – aren't we all? But just how are we thankful for our God today? I would guess that most of our thankfulness has to do with His provision and not necessarily His Person. The pilgrims knew that His provision was because of His character.
From my historical readings, the first Pilgrims knew their God! They knew Him to not only be a Provider, but a God of Mercy; their Creator; Redeemer; Life-giver; Deliverer; Rescuer. They knew Him to be all these things and were filled with Thanksgiving that He would even acknowledge mortal men!
How about us? Do we know Him in this way? At this time of year especially, we tend to give thanks for what God does for us, more than for who He is.
So, my recommendation is not to simply celebrate the Thanksgiving holiday – but celebrate the God behind the holiday and give thanks to the Lord, for He is good!
Here is a great thing to do with your family the week before Thanksgiving. Psalms 136 together, and verse-by-verse write down things that come to mind regarding our God on little slips of paper. You may need to break the Psalm up into a week's worth of daily reading and writing. Then, on Thanksgiving Day, pass out the slips to friends and family and read what you have all written as reasons for giving thanks. I have listed below some things to think about and write down as a reminder of Who God is and why we can be thankful for Him.
1 Oh, give thanks to the Lord, for He is good! For His mercy endures forever.
One of the main reasons we can give thanks to the Lord is because He is good. In describing the character of God, we can say, "God = good." Exodus 34:6 says He is abundant in goodness. Goodness defines Who He is. Have your family write how God is good and how He has been good to them.
According to every verse in this Psalm, we can see that God is good because "His mercy endures forever." Talk about His mercy. What is mercy? How does God show mercy? Write down how He has shown mercy to you personally.
Go through each remaining verses of the Psalm in the same manner writing your findings on the little slips of paper.
2 Oh, give thanks to the God of gods! For His mercy endures forever.
(He is the One True God. Why are we thankful for this?)
3 Oh, give thanks to the Lord of lords! For His mercy endures forever:
Have something to say about this article? Leave your comment via Facebook below!
advertise with us
Example: "Gen 1:1" "John 3" "Moses" "trust"
Advanced Search
Listen to Your Favorite Pastors