The Key Ingredient For Thanksgiving
Paula Moldenhauer
Saturday, November 27, 2010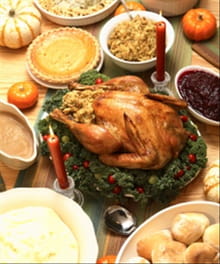 But how do we do that when the cares of life push us down? It is necessary to remember that Proverbs 15:13 says, "heartache crushes the spirit." We don't have to feel guilty that we don't have a cheerful heart, but we do need to take our cares to the Lord.
Recently, I sought to stand in faith during a difficult, heart-crushing time. I found it hard not to succumb to my emotions of despair as I tried to walk in faith. I was comforted when I read that the psalmist poured his complaints before the Lord (Psalm 142:2). This Scripture encouraged me to find a place by myself and I laid it all before Him. Through tears, I told Him how I didn't like what He was allowing in my life. It was much easier to offer God my thanks AFTER I'd laid my complaints before Him. An important part of finding that "attitude of gratitude" is being honest with the Lord.
After we've allowed the Lord to carry our complaints, we can ask Him to give us a thankful heart. Here's a simple illustration. As a young mother I was completely overwhelmed with the drudgery of keeping our home. I pushed through the many tasks that befell me and felt I would drown. I began to pray for a thankful, content heart.
One day a rush of pleasure flooded me while folding a worn-out, faded dishcloth. That sudden feeling of accomplishment made me realize that the services I performed for my family really did make a difference. I know God answered my prayer for a thankful heart. Never before or since have I rejoiced over a neatly folded rag!
While we surrender to God's transforming power, we can also choose to thank Him daily, no matter what life brings us. In First Thessalonians, we are encouraged to "give thanks in all circumstances." The very institution of our Thanksgiving holiday is a testimony to that verse. When I think of the suffering of the pilgrims or the soldiers at Valley Forge, I'm inspired by our forefather's determination to bow their knees before the King of the Universe, whatever the situation.
Jeremiah says, "Give thanks to the LORD Almighty, for the LORD is good; his love endures forever." (Jeremiah 33:11b, NIV) No matter what we face, we can always thank the Lord for His goodness and His love.
As we prepare for our Thanksgiving celebrations this year, may the Lord give us the grace to not only peel the potatoes, baste the turkey, and make that pumpkin pie, but also to live and model a thankful heart. And as we offer sincere thanks to our Father, may we, like our pilgrim ancestors, be laying a foundation of faithfulness for our children to build upon.
A homeschooling mother of four, Paula Moldenhauer is passionate about God's grace and intimacy with Jesus. Her website offers home schooling hints, book reviews, and a free weekly devotional, Soul Scents. Subscribe to Soul Scents at www.soulscents.us. You can contact Paula at Paula@soulscents.us.
This article originally published Nov. 11, 2005
Visit Crosswalk's Thanksgiving Facebook page at www.facebook.com/iAmThankful.
Have something to say about this article? Leave your comment via Facebook below!
advertise with us
Example: "Gen 1:1" "John 3" "Moses" "trust"
Advanced Search
Listen to Your Favorite Pastors