J.R.R. Tolkien and the Discipline of Hope
Dr. Stanley J. Ward
Friday, December 07, 2012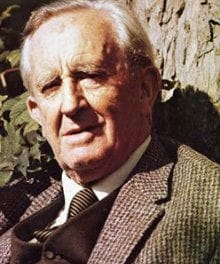 J. R. R. Tolkien's childhood was less than ideal:
Born in 1892 in South Africa, J.R.R. Tolkien's father died in 1896 when Tolkien was only four years old.
As a response, Tolkien's mother moved J.R.R. and his younger brother to England to be near family, and in 1900 his mother converted to Roman Catholicism, estranging her from the rest of her family.
Two years later, Tolkien's mother died, and Tolkien and his younger brother became dependent on the intercession and partial support of a Roman Catholic priest for their boarding and education.
This is one of the reasons I respect Tolkien so much. In spite of our modern cultural expectations that one must grow up in an idyllic setting, Tolkien demonstrated it is possible to have a dark childhood and yet still possess a remarkable and life-affirming imagination. Yet one must wonder, how could someone who had experienced such loss create an idyllic place like the Shire?
I believe Tolkien's Christian worldview made the difference. That worldview equipped him to have the discipline of hope. To borrow from the apostle Paul:
Not only that, but we rejoice in our sufferings, knowing that suffering produces endurance, and endurance produces character, and character produces hope, and hope does not put us to shame, because God's love has been poured into our hearts through the Holy Spirit who has been given to us (Romans 5:3-5).
I am convinced that one of Tolkien's greatest gifts to his readers is not the myths of Numenor, the language of the elves, or the post-dinner song of the dwarves (as impressive as all these things may be). Rather, his greatest gift is an example of the discipline of hope in the midst of overwhelming odds.
HOPE IN THE MIDST OF "HOPELESS" SITUATIONS
Life can be scary. Since our lives are like stories, they also include settings, conflicts, and resolutions. Sometimes those conflicts require us to have tremendous courage, exhibiting the discipline of hope. Otherwise, we despair and never overcome. What is fascinating about this discipline in The Lord of the Rings is who sets the clearest example.
Tolkien does not explicitly use Bilbo or Frodo Baggins, but rather, their unassuming companion Samwise Gamgee. The first time I started thinking about hope as a discipline was when reading the Lord of the Rings. In particular, this exchange between Sam and Frodo struck me:
Sam: It's like in the great stories Mr. Frodo, the ones that really mattered. Full of darkness and danger they were, and sometimes you didn't want to know the end because how could the end be happy? How could the world go back to the way it was when so much bad had happened? But in the end it's only a passing thing this shadow, even darkness must pass. A new day will come, and when the sun shines it'll shine out the clearer. Those were the stories that stayed with you, that meant something even if you were too small to understand why. But I think Mr. Frodo, I do understand, I know now folk in those stories had lots of chances of turning back, only they didn't. They kept going because they were holding on to something.
Frodo: What are we holding onto, Sam?
Sam: That there's some good in the world, Mr. Frodo, and it's worth fighting for.
Let me suggest that Sam is an easily under-appreciated character. For much of the story he is a humorous character and certainly a loyal friend, but when things become desperate his character becomes truly heroic. Even though I have read The Lord of the Rings multiple times, I still get a lump in the back of my throat when watching Peter Jackson's cinematic version. In particular, I am moved when Frodo seems to have no hope of completing his climb to the top of Mount Doom. In that scene, Sam exclaimed to Frodo: "I can't carry [the ring] for you . . . but I can carry you."
Recently on Tolkien / The Hobbit
Have something to say about this article? Leave your comment via Facebook below!
advertise with us
Example: "Gen 1:1" "John 3" "Moses" "trust"
Advanced Search
Listen to Your Favorite Pastors