Tolkien and the Long Defeat
Andrew Barber
Monday, December 30, 2013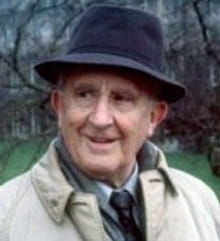 Whether or not we think our world is in decline is up to each one of us. But in application, we see this life principle guarded against pessimism by love and hope. Fighting the long defeat is not meant to protect our hearts from suffering or lead to resignation. I am reminded of a wise counselor's words to me when I complained that, after all this counseling, I seemed to cry more frequently than before: "What made you think counseling would cause you to cry less?" Fighting the long defeat is meant to push us towards full, unapologetic engagement before a Judge standing outside of time.
If anything, we find that most of the characters in LOTR cast their whole hearts into their endeavors. What they love is on the line: their friends and family, their gardens, a mug of ale in the company of friends. They hope and long for these things to be protected and offer themselves as sacrifices to make it so.
In other words, if fighting the long defeat does not lead us to risk our reputations to love the outcasts, to stay with the chronically ill in love, to support ministry to those with Alzheimer's disease, or to prepare week in and week out for a one-person Bible study, we have misunderstood it. This is what we have to offer to the world, is it not? A love unrestrained by success or timetables or ambitions?
___________
Our lonely elven queen, Arwen, does die in that forest, alone. As an elven maiden, she had the right to an immortal existence. But her mortality was the sacrifice she laid down for a life of love with the man in whom she delighted. She lived a beautiful life, raised a family, and reigned as queen for many years.
Arwen faces the long defeat that we all, as fallen humans, will inevitably face: our death. But there is one final truth that balances our application of this idea, and it comes from Tolkien himself. "I am a Christian, and indeed a Roman Catholic," he writes in one of his letters, "so that I do not expect 'history' to be anything but a 'long defeat'—though it contains . . . some samples or glimpses of final victory."
Despite the years of faithful work, J.R.R. and Edith Tolkien have their names on two tombstones, side by side. But one can't help but wonder that the moments they shared together in life, their wedding day and their first child, their mercy to others, or maybe simply the daily comfort of tea, were glimpses of that final victory. That when Jesus comes to usher in the next age and New Jerusalem descends to earth, we will find them both there, together, faithful to the last, experiencing the fruit of the one hope that was always guaranteed: God's reign on earth.
We fight the long defeat because results are not as important as our Father's delight. We fight the long defeat because we are not the authorities over "success."
We fight the long defeat because the final victory is coming.

Recently on Tolkien / The Hobbit
Have something to say about this article? Leave your comment via Facebook below!
advertise with us
Example: "Gen 1:1" "John 3" "Moses" "trust"
Advanced Search
Listen to Your Favorite Pastors