Even During a Cancer Crisis, God is Faithful
Veronica Neffinger

What topic related to Christianity, faith, and the Bible is trending online and in social media today?

2016

Jan 27

Comments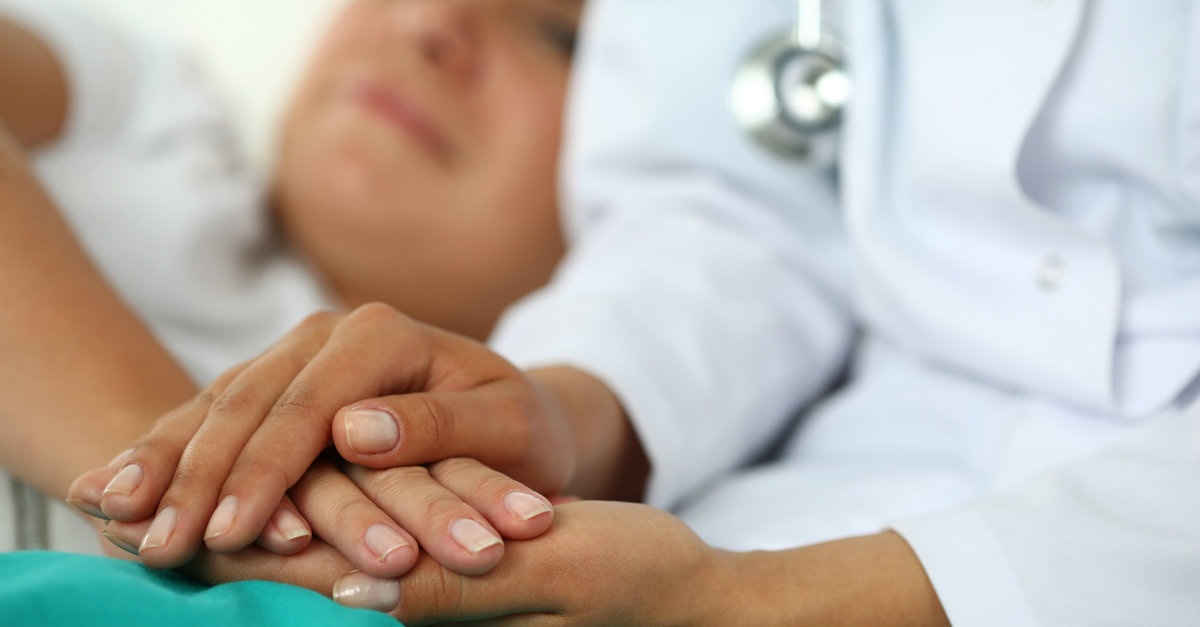 What do we do when trials strike, when we are hit with a crisis we never quite expected to happen to us?
Most of us tend to think, somehow, that major trials will never come to our own door, and then they do come, and, as Christians, we are given a choice of whether we will keep trusting God or whether we will allow the trials to undo us.
When Lauren Chandler first came to grips with the fact that her husband had cancer, she felt like her life and her family were falling apart. In her article for The Gospel Coalition "My Husband's Cancer and the Lord of Steadfast Love," Chandler shares her family's struggle, and how she learned to trust the Lord through the trials.
She first describes her grief. "Waves of mourning came at unexpected times," she says, mirroring the feeling of grief many of us have experienced from a loved one's illness, the death of a friend, or any number of trials.
Chandler shares how difficult it was to be thankful and to trust God and even to not be resentful when she saw other happy couples, knowing that her husband was hardly strong enough to get up from the couch, let alone go on a walk with her or attend their son's baseball games.
"The 'new normal' took some adjusting," Chandler says. But through the process of coming to grips with her husband's cancer and the impact it had on her family, God reminded Chandler of His faithfulness.
He did not take the grief away quickly and easily, but He provided what was needed through the time of trial.
"The LORD is exalted, for he dwells on high; he will fill Zion with justice and righteousness, and he will be the stability of your times, abundance of salvation, wisdom, and knowledge;the fear of the LORD is Zion's treasure," says Isaiah 33:5-6, a verse that became very dear to Chandler.
When all around us seems unstable--our health, our families, our schedules--God is our Rock (Psalm 18:2).
"Yes, we want the storm to be still. Quiet waters are a welcome sight after the whipping of the wind and waves," says Chandler. "But the calm isn't enough. We need a safe place to drop anchor—a shelter, a place to catch our breath."
God provides that place of shelter for us. He is that place of shelter.
I once heard a pastor give an illustration of what peace looks like. He said it was less like a calm lake at sunset and more like a tiny bird wedged in the cleft of a rock underneath a violent, rushing waterfall.
Something as simple as a phone call, a diagnosis, an hour of a day can change our lives forever, but as Dena Johnson shares in her Crosswalk.com article "Kent's Story: A Single Phone Call," when we suddenly find ourselves in an unexpected trial, God continues to provide us with "Abundant Grace."
In fact, in the midst of trials, we often see that grace most clearly because we most acutely feel our need of it.
"[H]e continues to show himself faithful even when we are faithless," says Johnson. "The journey has not be easy and there have been many tears and trials and we are still growing in our relationship with Christ but our God's goodness has overflowed in our lives in ways we could never think of."
Are you currently going through a trial? In what ways have you seen and experienced God's faithfulness through it?
When God Doesn't Fix Your Life: An Interview with Laura Story

Best-selling author, worship leader, Bible teacher, and GRAMMY award winner Laura Story Music shares with Crosswalk the difficult lessons she learned and is still learning when circumstances don't get better. Laura discusses God's great purpose in not fixing things, and the hard lessons we have to learn to understand God's extraordinary truth.

Posted by Crosswalk.com on Monday, December 14, 2015
Photo courtesy: Thinkstockphotos.com
Publication date: January 27, 2016
Veronica Neffinger is the editor of ChristianHeadlines.com
Veronica Neffinger wrote her first poem at age seven and went o
n to study English in college, focusing on 18th century literature. When she is not listening to baseball games, enjoying the outdoors, or reading, she can be found mostly in Richmond, VA writing primarily about nature, nostalgia, faith, family, and Jane Austen.
---
---