Get me out of this swamp
Dan Miller

Crosswalk.com blogspot for Dan Miller and 28Days.com

2013

Mar 05
Here's a recent 48Days Podcast question:
Dan, I've been pondering the rich man/poor man podcast for weeks. After being married for nearly 16 years, it had never occurred to me that my husband and I think differently about being rich. I feel like anything's possible; he's more downtrodden--about everything. I've owned my own job for 7 years and I'm not making much. My husband has been in a steady j-o-b for over 20 years (he's not even 40-years-old yet!). Although he mostly pays the bills, we're still in debt & treading water after starting the Dave Ramsey plan 6+ years ago. I want to get a job that will pay me incredibly well so we can move on. I want to provide well for our family. I want more than what we have--debt freedom & peace of mind.
Question: Am I wrong to try to steer this boat away from the monotony of the swamp? Thank you, Dan.--Hugs!
No – you are not wrong for wanting to steer your boat out of the swamp. But you need the co-pilot of your swampbuggy to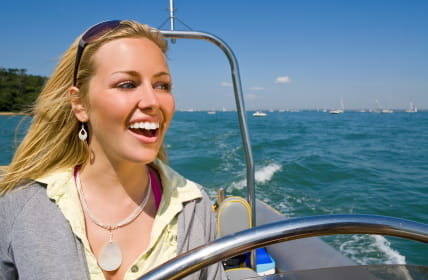 be on board with you. I know that in Christian circles we are taught that the man should be the leader in the home. But that doesn't mean you have to wait for your husband to get excited about better possibilities for your family. If his personality is more "downtrodden" then you can be the attitude leader – the cheerleader – in your home. You be the one who talks about new opportunities and the belief that the Lord has "plans to prosper you and not to harm you, plans to give you hope and a future" (Jer. 29:11 NIV).
Enthusiasm is contagious and your belief will prompt your husband to see with new eyes. Go find that new job that will increase your income. Get out of debt quicker by having what Dave Ramsey would call "a bigger shovel." Being responsible and trusting God does not mean just sitting quietly and accepting what we now have. Faith means taking action based on what we know now and opening the door to the future of our vision. Yes you can be the gas in the engine to get your family boat out of the monotony of the swamp.
********************************************************
Dan is the author of the New York Times best-selling 48 Days To The Work You Love , No More Dreaded Mondays and the newly released Wisdom meets Passion. He has been a guest on CBS' 'The Early Show,' MSNBC's 'Hardball with Chris Mathews,' Moody MidDay Connection, and the Dave Ramsey Show. Dan has spoken at the White House Christian Fellowship, and is in high demand at national conferences on aging and changes in the workplace, and at universities and churches. Over 130,000 people have subscribed to his weekly newsletter, his 48 Days Podcast consistently ranks in the top 3 under Careers on iTunes, and the 48Days.net business community is viewed as an example around the world for those seeking to find – or create – work they love.
---