How to Love Your Daughters!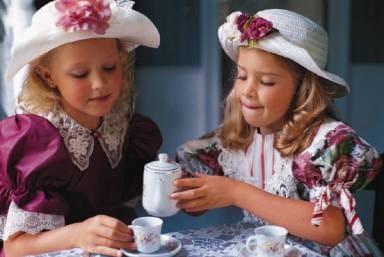 Who really knew you? Who left their world to enter into yours? Sadly, one lady who attended one of our conferences in England said, "My dog. When I came home from school and wanted to share my day, he was the only one who would listen." Can you imagine the pain in those words? My mother knew how to enter my world. She knew how to love her daughters!
Tea parties are part of a little girl's DNA, along with dress-up and boy hating. My earliest tea soirees consisted of my baby blankie, Yogi the teddy bear, and Arf-Arf, my stuffed beagle. The fare was simple -- baby bottles full of water and dried prunes. Mom determined that only dried fruit snack spills would come out of my bubble-gum pink bedroom carpet. Yogi and Arf-Arf were water-soaked, but the prunes kept them regular.
When Kathy, my little sister, entered the picture, the tea parties became more elaborate affairs. I had to bribe her with real food to induce her to play. Milk and cookies were on the menu, and Barbie, Skipper, and Midge were the esteemed guests. Our only male doll, Ken, was never invited. He spent most of his days lonely and naked in the toy box. Ken couldn't wear evening dresses or rubber high heels like Barbie (at least not in those days), so he remained in solitary confinement, only to make an appearance as the occasional dream date or groom. Kathy was younger than I, so I forced her to "be Ken" -- a humiliating job when playing pretend.
Now, back to the party plans. We scoured the house for the perfect location. A bed sheet covered the dining room table and satin pillows were surreptitiously absconded from the living room couch. The milk was filled with strawberry Quik, and we stuffed Fig Newtons down our throats lickety-split. Our Barbie and Midge dolls refused to eat because they were always dieting to prevent their perfect little plastic bodies from collecting cellulite. Barbie, created in 1964, is still in impeccable shape. If you see her in the toy aisle, nothing droops, wrinkles, pooches, or freckles. She is forever flawless and ageless. I hate her.
My momma understood our fascination with tea celebrations. Growing up on a dirt farm in East Texas was hard for my mom. Grandpa and Grandma B barely eked out a living for their tiny family. Everybody worked day and night to plant, harvest, and can the food they ate. Her parents couldn't afford many toys, so Grandma B created dollies from corn husks and scraps of cloth. Momma never owned a china doll, but these little companions fashioned with love were precious to her. The crude little corn husk girls gathered in the corner of the living room next to the coal-covered fireplace. Tea sets were costly, so Grandma B gave her little tot the cracked cups that were no longer usable for morning coffee. Mommy was an only child, so the friends who gathered around her tea table were imaginary. But she had an elegant tablecloth — a doily my Granny had artfully crocheted with white thread and little blue beads. Mom cherishes that lacy treasure to this day.
Those were her childhood tea-totaling days. As a grownup, Mom worked as the accountant for Dad's business, so Saturday was our special day together. Saturday morning did not seem special at first glance. Mom marched us down to the kitchen, shoved a bowl of Cream of Wheat (it tasted like paste) down our gullets, and passed out the cleaning supplies.We dutifully performed our morning chores, knowing that there was fun to be had when we finished our tasks. After all, Momma knew how to work hard. So her little charges were required to "earn" their fun before teatime began. Our happy "tea outings" did not come without a price. But it was worth the effort.
You can imagine the delight my mom had at treating her little girls to a tea party in grand style. ... Saturday's activities were not simply relegated to cooking and cleaning. At noon, Mom blew the whistle and gleefully proclaimed it was time to go "messing around." We threw down our spatulas and plungers and scrambled upstairs to change clothes. Mom exchanged her white socks and granny shoes for panty hose and red patent leather pumps. I cast off my grimy t-shirt, washed my armpits and donned a frilly dress. Looking fresh and perky in our frocks, we completed the ensemble with flowery hats and white gloves. Mom spritzed us with Sois de Paris toilet water (did it really come from a toilet?) She stuffed us into our Monza Spider convertible, stepped on the gas and sped toward downtown Dallas.
These special Saturday afternoons were tea parties in grand style. At Titche's Tea Room, gloved waitresses poured English breakfast tea from silver pitchers. Wedgewood china adorned the tables. Baskets bulged with tiny blueberry muffins, scones with clotted cream, and watercress sandwiches. A real live pianist played a Steinway grand piano as we sipped the warm beverage and raised our pinkies. Kathy and I used our inside voices, folded our napkins, and avoided food fights for at least an hour. Mommy was so proud.
Every sophisticated socialite spoke in hushed tones. If the whole experience wasn't glamorous enough, Elva the pianist pounded an arpeggiated flourish that signaled the start of the fashion show. Beautifully appointed models strode down the runway in rapid succession. They strutted their stuff as we gawked at the gorgeous duds. Suits from Chanel, scarves from Hermes, evening gowns from Armani, and bags from Burberry dazzled the onlookers. Mom would have to hock our convertible to buy an outfit. The models descended the stairs and visited each table, describing their ensembles and revealing their exorbitant prices. We pretended that the Chanel suit was a real bargain, but Mother knew all we could afford were the blueberry muffins.
Some Saturdays, I pretended I was swishing down the stairs like the stick-thin models, though my potato sack frame would look like a stuffed sausage in a strapless sheath. On rare occasions, a stately model would show off an A-line dress, which was "fashion speak" for "this will fit fatties." I dreamt a handsome prince would burst through the doors, slip a Gucci pump on my chubby appendage, and carry me away in his carriage.
Kathy, growing restless, was busy using the tablecloth for a napkin when her little linen square dropped to the floor. The strawberry jam on her cheeks added zip to the otherwise pristine white table runner. A snooty waitress sent a withering glance her way, but Kathy didn't care. She had paid for those muffins, by golly! (Or Mom did…) As the models disappeared back to the dressing room, Kathy seized the opportunity to do what she did best -- to be the center of attention. She bounded up the stairs onto the runway, twirled three times, and showed the snooty ladies her jingle-bell petticoat. Instead of administering the whipping she deserved, Mommy giggled and applauded. The other ladies followed suit. Yep, tea parties were the best, for grown-up ladies and little girls alike. Only a loving, imaginative Mommy could watch her daughters sipping water from plastic teacups and fulfill their tea-party passion so completely. We left Titche's tearoom dazzled and delighted. Even our table manners improved ... for the most part!
Jesus Christ, loved us enough to enter our world, to lay down His life for ours.
Thank you, Mom, for doing the same-every day, every moment, throughout your life. I love you. Julie
---