What to Do When Your Kids Are Smarter Than You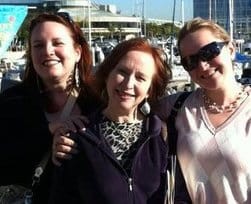 My kids are smarty-pants. Ridiculously intelligent. Off the charts! How intimidating for a parent! But I have learned much from corralling precocious little Einsteins around my house. And I thought I'd pass on a few tips to you.
Our oldest daughter, Brianna Lynne, came out of the womb speaking in complete sentences. The pediatrician smacked her on her behind and she said, "Thanks, Doc. I needed that!"
Well, not really. But almost. On Brie's first birthday, she knew seventy-two words, and she never shut up. By the age of two she was reading. One sweltering July afternoon, we were sitting in the crowded Tucson airport (which smelled like feet) waiting for a flight. Brie, nineteen months, happy kicked her booties and gazed at a foo-foo Chihuahua perched in a pink pet carrier next to her stroller. The pet's owner, a jovial "grandma" type, decided to strike up a conversation with our toddler.
In her sweetest baby-talk voice, the lady pointed to the alligator on Brie's romper and purred, "Honey, do you know how to say 'gator'?"
"It spells IZOD lady," Brie replied matter-of-factly, never looking up from her Raggedy Ann. The amiable traveler was so shocked; she picked up her precious puppy and scurried away to the newsstand.
Brie's schoolteachers were flummoxed. They didn't know what to do with her. Mrs. Chastain suggested we promote her to second grade and skip first grade altogether. They gave Brie special projects, and educators poked and prodded her like a lab rat.
Arguing with my daughter was like facing off with a smooth-talking district attorney in court. Brie always wanted to have the last word. She was never satisfied with the four most important words any Mom can say: "Because I said so."
However, our little egghead needed love, training and discipline like any other child. Before I relate some helpful hints God gave us about raising our Brie, let me tell you about Bronwyn, her baby sister.
Our youngest daughter made her entrance into the world with a bang! I was playing the piano for a Baptist state convention when my water broke on the piano bench. Bronwyn had no intention of waiting around until the closing prayer. My contractions were coming hard and fast, so Roger laid me down in the church foyer on a handbell mattress and called 911. The little booger with a Mohawk hairdo made her grand entrance screaming like a banshee. She never shut up for three months. The doc said she was colicky. I know it was sheer stubbornness.
Bronie, whip-smart like her sister, decided to keep her brilliance hidden. She got tired of competing with her sis and was sick of the church members fawning over Brie. So Bron decided to make a splash wherever she went.
We Barriers moved out of the parsonage to a home of our own when Bronwyn was four. Daddy and daughter were driving home when Bronie put Dad's face in her hands, looked him square in the eyes, and inquired,
"Daddy, you were the boss of the old house, right?"
"Of course, Bronie. Why do you ask?"
"Because I'M going to be the boss of the new house!"
And she spent the next fourteen years determined to do so.
Bronwyn used her smarts to be the charismatic ringleader. Kids would follow her like rats followed the Pied Piper. Both our girls attended our church school, which had a very strict dress code. Bronwyn managed to pilfer a copy of the regulations and read the fine print. Attire had to be modest, but there was no clause about shoes. So she started a revolution. One Monday morning, Bron marched into science class wearing large bunny slippers. Mrs. Bates immediately sent her to the principal. Bronwyn whipped out her copy of the by-laws and informed the principal that she had every right to wear her "bunnies." The principal, too shocked to reply, shook her head and sent her back to class. Thus ensued the "bunny rebellion." Students everywhere pulled out their bedroom slippers and padded to school.
The girls couldn't be more opposite. Brie thrived on acquiring accolades like Honor Society, Student of the Year and Good Citizen awards. Bronwyn just got bored. School was much too easy for her. She had incredible musical talent, so she began conducting her school orchestra in seventh grade. She sang like an angel and played several musical instruments, but slept through math and science because they were not challenging.
Finally, she decided that the only new frontier would be an exchange student program. Bronwyn hopped on a plane to Germany and spent the year studying Russian and physics in German. She went straight to college after her junior year and finished college in three years.
Well, there you have it. A dynamo and a fireball under the same roof. So what did we learn raising two powerhouses?
Don't ignore your kid's needs.Intelligent children often appear self-sufficient, but they need love, acceptance, affirmation, approval and encouragement and TIME like any other child.
Just because your children are smart, doesn't mean they are WISE.Proverbs teaches that wisdom and fear of the Lord are essential to good parenting.
Discipline must be firm and consistent.Don't let your child manipulate you. They can and will "work the system" because genius can morph into mischiefin a moment's time.
Make home a safe haven.Help them feel NORMAL. Some of their peers feel jealous and treat them unkindly. Some of their teachers are intimidated and treat them like aliens from another planet.
Be an example.Show them how to love God deeply. They may know all the answers in Sunday School, but they learn loving Jesus from you.
Our girls grew to be wise women. They have suffered greatly from health issues and tragedy during their adult lives, but they love God and serve Him always. Brianna raises hundreds of millions of dollars for Christian ministries like Wycliffe Bible Translators, Moody Bible Institute and Insight for Living as a writer/fundraiser. Bronwyn started as a tech help desk administrator, and in a year she learned to design massive complex software systems for major corporations. She reads and memorizes thousands of pages of technical certification materials and aces the tests in a week.
I still take loving and meeting the needs of my grown-up girls very seriously. They are on the front lines of God's work and need all of my prayers, support and love.
---