Spanish Anchor Update!
Dr. Ray Pritchard

Dr. Ray Pritchard is the president of Keep Believing Ministries, an Internet-based ministry serving Christians in 225 countries. He is the author of 29 books, including Stealth Attack, Fire and Rain,…

More

2017

Aug 09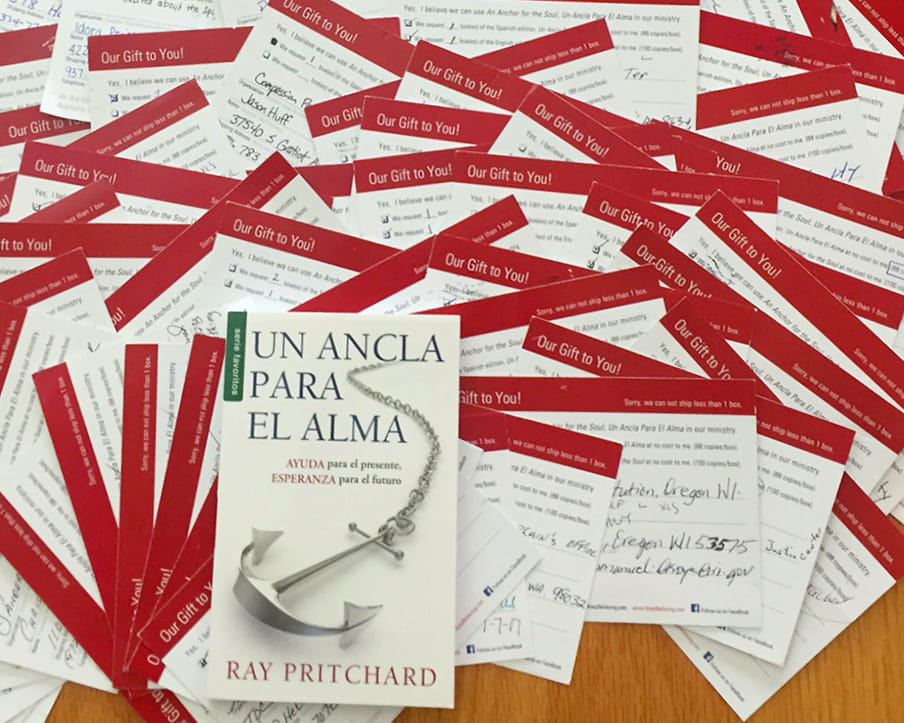 Since our shipment of 50,000 Spanish Anchors arrived in May, we have sent out of 22,000 copies to ministries across America. Here's a picture of the Spanish Anchor surrounded by cards requesting copies of our little "gospel book."
Did you know there are 69 million Spanish speakers in the US? We want to help reach them with the Good News of Jesus. We ship Spanish Anchor in boxes of 88 copies. We don't ship to P.O. Boxes or to third parties or outside the US. We're happy to ship books to US addresses where they can then be shipped to other countries.
We partner with evangelistic ministries that can use Spanish Anchor as part of their outreach.
Because we donate the books and we pay the postage, we carefully vet every request that comes in. If you are interested in getting copies of Spanish Anchor for your ministry, please send an email to books@keepbelieving.com. Doreen Mahlstedt from our ministry will get back to you with all the details.
We depend on the generosity of our friends to make these books available for free. Thank you for your prayers, your encouragement, and your financial support.
Click here to sign up for the free email sermons.
---