Addressing the People in Need
Kelly Balarie

---

Get all of Kelly's blog posts by email! Kelly Balarie, author (Battle Ready, Rest Now, Take Every Thought Captive), speaker, and blogger, delights in joining hands with women as they go through…

More

Published

Jan 07, 2018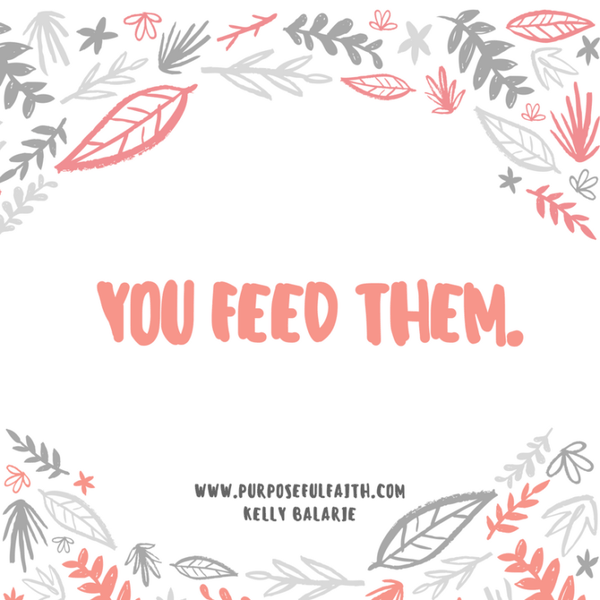 A person taken advantage of by a boss.
Another in desperation because there is no way out of a marriage.
One uncertainty about what the future holds because children are now gone.
A friend in deep need to be healed not only of cancer, but emotionally.
We see these people, but we often feel helpless. We don't know how to help. What to say.
The apostles perhaps felt the same when they saw thousands without food. They instructed Jesus to send them away, to "villages so they could find food" because "there is nothing here in this deserted place."
Jesus had none of that. He replied, "You feed them." (Lu. 9:13) He says the same to me. You feed them.
You feed her – the daughter who needs to know you're listening.
You literally feed him – the husband who is tired and comes home starving.
You feed them – the couple who looks downtrodden at church every week. Go to them and see how you can get to know them.
You feed that one – the person who has been on your heart for weeks, but you haven't taken a step towards.
Do it.
Even if you say, "What, God? Me? Don't you see I am in a deserted place? I have nothing to give."
Jesus replies, "You feed them." (Lu. 9:13)
This Christmas season, neighbors left and right came out of their house with little cookies for me and my family. I was far from home and without family nearby, but they came – and they came with smiles. Some with gifts. And every one with a heart of love.
This season, I got fed. I feel full. I told my husband it was like we were with family for Christmas.
These people didn't count up their own deserted land and have a pity party of their own. They picked up their tin and came over. This is what Jesus means by feeding. Just get out there and do it. It matters. Small things offer others big heart strides.
And the truth is, all of us have a something, even if we have nothing. His name is Jesus. He is always our something. He is always our first leading to our best thing to do, to give, to hand away no matter how big or small. Size never matters in God's economy. What is little gets big, in the name of Jesus.
You feed them.
Prayer: God help us to do the small things you instruct our heart to do. Give us a will of follow-through. Give us intent to love. Give us your vision and your hearing so that we might love a world in need. In Jesus' Name, Amen.
Get Kelly's short daily blog post by email - click here.

Join the 4 Days to Fearless Email Challenge.
Or, book Kelly to speak at your next women's event or conference.
---