Author Offers Antidote for Dilemma of "Crowded Loneliness"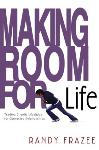 A Texas pastor says it is possible for Christians to have meaningful relationships in today's chaotic society.

In his new book "Making Room for Life: Trading Chaotic Lifestyles for Connected Relationships," Randy Frazee says busy and hectic schedules that are common in families are causing many family members to suffer from what he calls "crowded loneliness."

"You have a variety of relationships," the author says. "Imagine yourself being at the very center of a circle, and then identify all the different relationships that you manage – and then look at how disconnected they are."

What the average person will discover, Frazee says, is that he or she has between 35 and 40 different disconnected relationships, each of which has to be managed. "That leaves you with an overexposure to people, but not really a deep connection with any one," he says.

Frazee says modern families can reduce stress and tension in their lives by structuring their schedules around a pattern found in the first book of the Bible. He says the Book of Genesis has an example of what he calls the "Hebrew Day Planner."

"Get your work done from 6:00 a.m. to 6:00 p.m., enter into a season of relationships from 6:00 p.m. to 10:00 p.m. every day, and then enjoy a good night's sleep from 10:00 p.m. to 6:00 a.m." he suggests. And while he readily admits that many people may find such structure restricting, he also shares benefits he has experienced himself. "As I've studied the scriptures and applied this to my own life – including my sleep insomnia that I ran up against – I found that God's principles, in rhythm, still work today."

One online reviewer recommends the book for anyone who would "move closer to living the life that Jesus Christ envisioned for them when He died on the cross," and for all who "would end up leaving the chaotic life behind and experiencing the delights of connected relationships."

Frazee is senior pastor of Pantego Bible Church in Fort Worth, Texas.



© 2004 AgapePress.  All rights reserved.  Used with permission.