Book Talk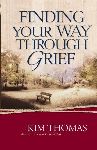 Grief is the Houdini of emotions. It can stuff itself into a box, disappear, and then pop out at the oddest times. You are never prepared, hardly ever comforted, and there is no escaping the long, arduous process of mourning a life passed.
My mom left this earth about three weeks ago. In the backyard, a handful of friends and family gathered to celebrate her life. The hours passed with people recounting her sense of humor, her eccentricities, her accomplishments and her kindness. It helped.
I arrived back home a week later to a house full of Houdinis. Wading through the sea of condolence notes, I came upon a gift from my friends at Harvest House Publishers, "Finding Your Way Through Grief." It's a book about one person's journey through the grief process.
Kim Thomas, the author, is a person who is inordinately talented. Not only is she a fine recording artist (Say-So) and painter ("City on a Hill" and Sixpence's "This Beautiful Mess" covers), but also a powerful author. Her book begins with the story of her mother's dying process. Thomas manages to excavate the deepest incongruities and "indescribables" of the grief process with eloquence and clarity:
There is a small box that houses poems Mom wrote as a child, with naively drawn illustrations … lately my memories of mom are not so neatly stored. They come in waves running over me at once, and then there are times when I am dry and find it hard to retrace her face in my mind.
And then authentic comfort, through a 30-day series of compelling devotionals, is found in the second part of the book:
Peace doesn't look the way I always imagined it … I expected a grand blanket to fall from heaven, sealing me off from the difficult things. But peace is not emotional detachment, or denial, or a state of unfeeling. It is the ability to function in the midst of conflict, or pain, or suffering.
I'm on day 27 now (even though it is only day 21). Like our garden party a few days after my mom's death, this book is making me reflect, laugh and cry through the most difficult of times. "Finding Your Way Through Grief" is a great source for anyone in extreme pain – regardless of the source. "Houdinis" wither under its powerful revelations.
In short – it helps.

© 2005 CCM Magazine.  All rights reserved.  Used with permission.  Click here to subscribe.