"Hammers & Nails" - Book Review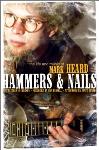 Author:   Matthew Dickerson
Label:    Cornerstone Press

"Hammers and Nails" is an overdue tribute to the life and music of Mark Heard, a respected, revered but not widely accepted musician who unexpectedly died in 1992.

Part biography, part memoir and paired with some of Mark's own writings, it paints a portrait of an artist, husband and father. The book is not a light read as it often deals with hefty topics, such as the debate of art and commerce, a subject he often wrestled with; but it is also insightful and thought-provoking in its approach.

The author, Matthew Dickerson, shares his experiences of working with Heard; and he talks to others who knew him, interspersing this dialogue with segments of Mark's lyrics. The true gem of the book is the first appendix, an excerpt of Mark's journal titled "Life in the Industry: A Musician's Diary."

His prose is just as poetic as his song — a fitting representation of his talent and impact.

Used by permission.  CCM Magazine © 2003  Click here to subscribe.
Get 1 Christian Bestseller for FREE, plus FREE shipping. Click here for details.