"Honey, Hang in There!" - Book Review
Whitney Hopler

Crosswalk.com Contributing Writer

2003

28 Apr

COMMENTS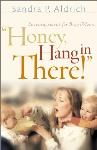 Author:     Sandra P. Aldrich
Publisher: Fleming H. Revell
Mothers – particularly those with young children – need lots of encouragement and support.  And author Sandra P. Aldrich aims to provide both in her new book, "Honey, Hang in There!": Encouragement for Busy Moms."  This collection of 101 devotions covers a wide array of topics, from dealing with stress and making time for what's most important to affirming children and setting standards for them.
The devotional format works well for moms who might not have enough uninterrupted time to read a book straight through.  Moms can read the entries in any order, according to what interests them most at the time.  Some of the messages are repetitive – after all, 101 completely different mothering topics are a lot – but each devotional does begin with a unique Scripture verse and end with a unique, one-sentence summary of its message.
After awhile, those summaries (each titled "An Encouraging Hug") can become a little annoying because Aldrich begins every single one with the word "Honey" as if she's the reader's kindly grandmother.  I know she means well, but the effect is unfortunately patronizing and oddly distancing when it's meant to foster intimacy.
Most moms should be able to easily relate to the stories Aldrich presents, from both her own life and those of other people she knows.  Aldrich, whose husband died when her two children were still fairly young, can speak from experience to single parents as well as married ones.
The book's last section, "To Ponder and Discuss," presents two questions about the topic of each devotional to help readers apply the material to their own lives.  It's always a welcome treat to have a resource like this in any nonfiction book.

Get 1 Christian Bestseller for FREE, plus FREE shipping.  Click here for details.