New Bible Melds Counseling Insights with Wisdom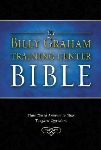 One of the most well-known Christian ministries has helped develop a new "answer Bible" that tackles some of the toughest issues of modern times.

For more than five decades, the Billy Graham Evangelistic Association (BGEA) has helped hundreds of thousands of people worldwide deal with issues such as abortion, suicide, grief, AIDS, financial difficulty, and many other topics. Now the BGEA has compiled the Billy Graham Training Center Bible (New King James Version), which is subtitled: "Time-Tested Answers to Your Toughest Questions."

The new Bible is being distributed by Thomas Nelson Publishers. Mark McPeak with Thomas Nelson says BGEA draws from its many years of pointing people to a vital relationship with Christ.

"They produced a Christian worker's handbook years ago, and through the years have refined that," McPeak shares. "The purpose of that handbook has been to prepare people to counsel other people as they're making decisions for Christ at the crusades, as they call in with problems and issues, and all those kinds of things. The vision of this Bible was to take that wonderful content and ... marry it with the text of the Bible."

McPeak is hopeful many people will be encouraged by this new Bible. "I think it's going to be such a gift to the Church, and such a gift to people who want to help others grow in Christ – and to individuals who would like to have a Bible that's very practical," he says.
He explains the Bible addresses the needs of individuals' daily lives, and also provides a roadmap on how to become a mature follower of Christ "through reading scripture and through reading a lot of helps that are associated with that scripture."

The Billy Graham Training Center Bible will be released in mid-November.



© 2004 AgapePress.  All rights reserved.  Used with permission.