The Savvy Couple's Guide to Marrying After 35 - Book Review
Whitney Hopler

Live It Editor

2003

26 Mar

COMMENTS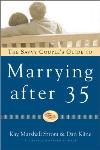 Authors:   Kay Marshall Strom and Dan Kline
Publisher: InterVarsity Press
Couples are waiting longer to get married than ever before, so it's now fairly common to find brides and grooms who have left their youth behind and are moving forward into a shared future after age 35. These older newlyweds must deal with unique issues as they seek to forge successful marriages, since they've most likely already established independent lives that they'll need to blend somehow.
"The Savvy Couple's Guide to Marrying After 35" effectively tackles those issues, such as dealing with competing careers and deciding what to do if each person owns a home. And since some couples getting married after age 35 have been previously married, the book also deals with issues such as dealing with baggage from past marriages and adjusting to life as a stepfamily. Authors Kay Marshall Strom and Dan Kline had each been married to others before they joined their lives in marriage to each other after age 35.
Happily, Strom and Kline don't rely just on their own experiences to provide enough material for the book. They took the time to survey more than 35 couples, and also asked seven marriage counselors to contribute to the project.  The result is a book that takes a well-rounded approach to the topic, delivering both solid information and fascinating anecdotes.
Strom and Kline present their material much like sociologists would, encouraging readers to study and consider what they have to say, then draw their own conclusions (through discussion and prayer) to apply that material to their own marriages. They include useful discussion questions or activities at the end of each chapter, and pepper the text with thought-provoking quotations throughout.

Get 1 Christian Bestseller for FREE, plus FREE shipping.  Click here for details.