Third Time's Truly the Charm For Michael Vey in Battle of the Ampere
Christa Banister

Crosswalk.com Contributing Writer

2013

30 Sep

COMMENTS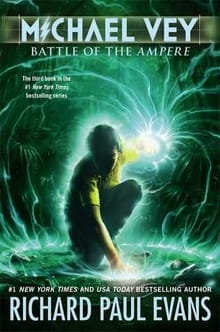 Author: Richard Paul Evans
Title: Michael Vey 3: Battle of the Ampere
Publisher: Simon Pulse/Mercury Ink
For any reader, there's no greater joy than finding that one series that keeps you up until the wee hours of the night to finish. And for young science fiction fans who enjoy spending time with an unexpected hero, Richard Paul Evans' "Michael Vey" collection is basically as good as it gets.
After writing literary novels for nearly two decades, it's clear that Evans has found his sweet spot in this particular genre. From Michael Vey's first chapter until now, there's an underlying joy in the words of an author who clearly loves what he's doing, and that's just one of the many things that makes this series work so well. Well, that and spinning a fascinating tale with more hooks than your average pop song.
Another standout element is the character himself. Rather than making Michael the hunky jock, a sparkly vampire a la Edward Cullen or the brainiac destined to ace his SATs, Michael is an ordinary kid that practically anyone can relate to. But what makes Michael fascinating enough to stick with is his extraordinary courage, a trait that's tried and tested in Battle of the Ampere, too.
To avoid venturing into serious spoiler territory, a lengthy plot description won't be given here, but I will say this. After waiting for a year, Battle of the Ampere was definitely worth the wait. After leaving readers breathless with a high-stakes ending begging for a resolution in Rise of the Elgen, Evans continues to up the ante as Michael and his family find themselves in danger yet again.
Full of unpredictable twists and turns and plenty of heart, Evans does an outstanding job of drawing the reader in to one arduous situation after another with wonderful payoff. If anything, the only complaint one can offer about Battle of the Ampere is that after reading at such breakneck speed, you'll find yourself disappointed by the time the last page is turned—and that's only because you'll probably have to wait quite a while for the next installment.
Until then, however Evans continues to succeed in writing a series that lovers of adventure of all ages can sink their teeth into.
*This Review First Published 9/30/2013