BarlowGirl Takes a Private Turn on "Another Journal Entry"
Teri K. Modisette

CCM Magazine

2005

25 Oct

COMMENTS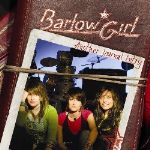 Artist:  BarlowGirl
Title:  "Another Journal Entry"
Label:  Word
Leave it to the Barlow girls to take something as private and candid as a journal entry and strap it to a screaming bottle rocket. With its decidedly literal title, the sophomore effort, "Another Journal Entry," does just that – and the best part is, they didn't have to debut a clothing line or star in a reality TV show to set that fuse aflame. No siree, this release is a hype-free zone.
As you might expect, the Barlow sisters allowed the album to flow lyrically straight from the raw material of their own journals, where each Barlow documents her faith walk in ink. "Journal Entry"'s romping, playful tracks – such as "Five Minutes of Fame," a what-iffing, get-over-yourself song about selling out for fame, and the virtually dizzying, riotously fun cover of David Crowder Band's "No One Like You" – showcase the group's natural moxie.
But it has its emotional, warm portions too. The Celtic-flavored "Porcelain Heart" is an ethereal confession, and "Never Alone" sounds achingly blunt, like a Davidic lament for times when things look peachy, but suddenly, life becomes a holy mess.
The only other song that is not a Barlow original is the cover of Chris Tomlin's "Enough," which fits snugly into the disc's give-You-credit-for-getting-us-through spirit. BarlowGirl obviously takes its music far more seriously than the girls take themselves, and the result is explosively true-to-life in some spots, charming in others. While this is a good pop rock offering, it still sounds much like standard Top 40 Christian radio fare, leaving room for the band to hone its own sound and approach.
And it's all wrapped in a sound that mixes The Bangles, The Go-Gos, 1980's Heart and Simple Plan, punctuated with some "Dukes of Hazzard"-worthy whoops, so distinctly Barlow. Thank heaven for little girls!

© 2005 CCM Magazine.  All rights reserved.  Used with permission.   Click here to subscribe.