Chris and Conrad Deliver Crisp Pop on Self-Titled Debut
Grace S. Cartwright

CMCentral.com

2009

1 Jun

COMMENTS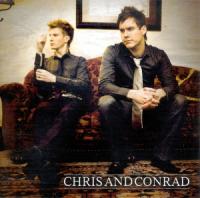 Artist: Chris and Conrad
Title: Chris and Conrad
Label: VSR Music Group
Smart debut from slick pop duo …
Chris and Conrad are likeable. Their pleasant press shots and cheerful smiles make them endearing, to be sure. But their debut album is what will make them memorable. Falling squarely in the genre of crisp popsters Matthew West and John Waller, the fresh-faced musicians promise intergenerational appeal.
From the first notes of "You're the One," the duo bursts out with simple but singable harmonies and lyrics similar to Waller's vertical-style fare. Next, the techno-flavored "Rescue" boasts a dance beat and enhanced vocals reminiscent of One Republic. Vocally, Chris and Conrad prove quite versatile, with momentary glimpses of The Fray, Goo Goo Dolls and Lifehouse.
The third track, however, is what hoisted them to instant fame with their incredible version of "Lead Me to the Cross," made popular by Hillsong United powerhouse Brooke Fraser. The duo's cover is simple and refreshing, relying solely on their flawless vocals. And oh how they shine on this track, with a moving vocal performance backed by pleasing arrangements. Lyrically, they play it a little safe, but like Waller, manage to pull off the easy-to-learn worship tunes.
Fourth track "Always There" continues the winning streak for Chris and Conrad, with a punchy pop number that proclaims, "Every step I take/With me all the way/You were always there." They hit a lyrical high on "Buried Alive" where they sing, "We've all broken ground/Take one look around/We're in over our heads and we keep digging down/Making sure that nobody sees the dirt on our face that just would not come clean. …We cover our heads as the weight of this world comes crashing down again/And the last ray of light can no longer be found." Final track "I'm At Home" rounds out a satisfying spread of music.
Tending toward the formulaic, Chris and Conrad could expand their horizons and take a few more risks, but this strong debut still sets them apart as new artists for 2009.
© 2009 CMCentral.com. All rights reserved. Used with permission.




Visit CMCentral.com now and join the single largest online community of Christian music fans on the internet. CMCentral features daily music news, exclusive interviews, album reviews, weekly devotions and feature articles written by some of your favorite Christian artists, and much more. CMCentral is also the home of the most popular Forum for Christian music fans that you'll find anywhere on the Internet. Come see what all the buzz is about!

**This review first published on June 1, 2009.

Watch the latest Chris and Conrad music videos on their official Godtube.com artist page!