David Bush Strives to "Change the World" on New Disc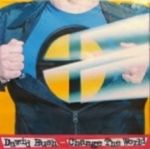 Artist:  David Bush
Title:  "Change Your World"
Label:  Independent
David Bush has made a career from his powerful ballads. One of his early songs – "More Than Ever" – was a staple in my repertoire long before I started writing and recording songs of my own. The lyrics were reminiscent of Keith Green and Steve Camp, taking on a sort of prophetic stance. The message was at once rallying and convicting, urgent in its plea for the believer to make a stand for Christ in a complacent, godless world. 
I hear the same voice in these songs, though the music has taken on a more muscular and aggressive approach. Some of the song titles include "Stand Up and Fight," the title cut "Change the World" and "I Will Sing." There is a lot of interesting guitar work here, some of it very contemporary pop-rock, and some landing squarely in the mid '80s. The guitarists assembled are brilliant – Michael Thompson, Shawn Tubbs, Randy Mitchell and Craig Willoughby – not to mention the host of other fine musicians who contributed under the masterful direction of John Andrew Schreiner (Crystal Lewis, Julie Miller).
The songs mentioned above make bold, declarative statements about how a committed and determined believer can make a difference in the world. David sings them with great passion and conviction, almost bravado, like a battle cry: "I'll put my doubting thoughts to flight/ Run 'till sin is not in sight/ When there's no one else around/ I'll stand up and fight!"
Scattered between are somewhat more deferential songs such as "My Life is an Offering," "Take My Hand" and "Lean On Me," which is my favorite song on the record: "Your passion and youth/ A moment in history/ Like withering grass/ Your glory will pass/ So lean on me."
David pours himself into these more plaintive songs with the same intensity, providing a nice contrast and balance to the rest of the record.
For more information, or to purchase your own copy of "Change the World," visit www.davidbush.com.

© 2005 CCM Magazine.  All rights reserved.  Used with permission.  Click here to subscribe.