Deeper Thinking Inspired by Leaving Eden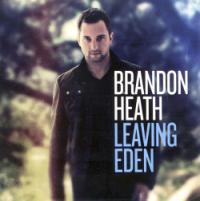 Artist: Brandon Heath
Title: Leaving Eden
Label: Reunion Records

Brandon Heath's unassuming nature seems to be having a reverse psychological effect on Christian music fans who've kept the plainclothes singer/songwriter in the spotlight since his 2006 debut. Breakthrough rhythmic folk hits "I'm Not Who I Was" and "Give Me Your Eyes" are still in heavy rotation, and the industry has bestowed Dove Awards for New Artist (2008), Song of the Year (2009), and Male Vocalist (2009-10). This mild-mannered hot streak could well continue with Leaving Eden, another set of hummable tunes that never really comes at you with fireworks but nevertheless provides more sparks of inspiration toward deeper thinking.
Just outside of Eden we find Brandon lamenting a broken world, wrestling with its fallout, and ultimately finding some peace in the restorative pursuit of heaven. "I think rediscovering and preserving innocence is part of the umbilical cord that attaches me to God," Heath has said in regard to the record's overarching theme. That tension can be sensed on the cinematic title track, giving melody to a laundry list of things gone wrong around here, followed by an epiphany—there's no place like home. The heaviness turning to hope is also there on praiseworthy single "Your Love" as well as the even catchier yet predictable "The Light in Me." The latter is a good example of the album's admitted pop emphasis; there are some bigger beats, shinier production values, and—in one mercifully quick instance—use of that T-Pain vocal effect (vocoder).
While the commercial attempts are hit and miss ("Stolen" and "The One," both anthemic, reflect the soul struggles we face on earth and have strong chart potential), Brandon is always on target when the volume is lowered back down to, say, the James Taylor level. "Only Water" is an oasis, a poetic, almost classical song that looks at the spirituality of water—as rain for dry land, as a force that cuts valleys into mountains, as an instrument in Christ's miracles. The stories of Jesus on a stormy sea and on the cross also mark the slowly soaring ballad "It's Alright" where Heath reminds us life doesn't promise an easy road, just a destination. He imagines his arrival there on "As Long As I'm Here," a thoughtful ending piece that emphasizes living well by loving well.
Leaving Eden may not be the masterstroke some might wish this acclaimed artist would deliver, but neither should it be left behind.
**This review first published on January 18, 2011.

Watch the latest Brandon Heath music videos on his official Godtube.com artist page!