Delirious Delivers New Material and Rarities on "Time"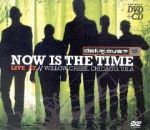 Artist:  Delirious
Title:  "Now Is the Time: Live at Willow Creek. Chicago, U.S.A."
Label:  Furious/Sparrow
No one can accuse Delirious of taking too long in between albums, since the relatively prolific group either releases a rock record, worship project or live compilation just about every year.
And, while the British-based band could appear to be capitalizing on the product chain, the group generally turns out consistent collections that die-hards devour no matter what the content. The group's latest concert CD/DVD combo, "Now Is the Time," comes on the heels of several others – the most recent being 2004's Hillsong collaboration "[UP] Unified:Praise" – though the set list remains fresh, and the performance quality is again top notch.
Rather than recycling its hits over and over again, Delirious takes a cue from Dave Matthews Band by often integrating new material and rarely performed selections into each tour. This particular outing was in support of its latest studio creation, "The Mission Bell," and features the majority of those selections, which works to the gang's advantage considering the disc's explosive mixture of jarring guitars, catchy choruses and congregational appeal.
The track list is virtually identical on both the audio and visual installments, including lively, hypnotic versions of the old hymn turned alternative expression "Solid Rock," the Coldplay-esque "Now Is the Time," the grandeur of "Miracle Maker" and the barnburner "Paint the Town Red."
While the CD is a little limited in translating the audience's excitement to a personal stereo, the DVD more than makes up for the slack. Not only is the crowd especially energetic, but the production is top-notch and could rival any major mainstream concert release. Older fans will also appreciate a gripping rendition of "History Maker" (exclusive to the DVD), one of the show's most moving examples of simultaneous praise and partying. All in all, Delirious once again steps in an inventive direction while refusing formula in one of its most worthwhile live offerings to date. 


© 2006 CCM Magazine.  All rights reserved.  Used with permission.   Click here to subscribe.