Haddon Gets His Groove Back on Revealed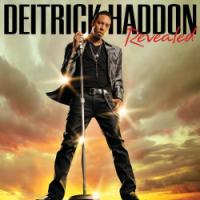 Artist: Deitrick Haddon
Title: Revealed
Label: Zomba
Gospel crooner Deitrick Haddon has probably been known as a musical visionary since he first appeared on the scene in 1997 leading the group Voices of Unity through a series of four successful projects.
But it was when he launched his solo career in 2002 that Haddon seemed to find his true voice and his own unique, urban style that catapulted him to the forefront of the urban gospel genre. And after a slight stylistic departure with the 2006 R&B/gospel-soul-infused concept album 7 Days, Haddon has found his urban groove again with Revealed, the tenth and arguably boldest album in his eclectic career.
Revealed showcases what Haddon does best, which is to redefine urban gospel in a way that few other artists can do. Combining elements of pop, rock, hip-hop, and even electronica/house beats, the album sounds like much of what you might hear on Top 40 radio at any given moment of the day. But it's Haddon's artistry and creative skill that allow him to blend it all together in a cohesive mix that simply works.
An album with this kind of pop music appeal will undoubtedly give legs to Haddon's vision to "take statements of spirituality beyond church walls in hopes of impacting the universe on a major level." The project features multiple producers from the pop and gospel world, including the funky first single "Love Him Like I Do," a Warryn Campbell production with special guest vocals by American Idol's Ruben Studdard and gospel duo Mary Mary. Campbell also worked with co-producer Eric Dawkins (Christina Aguilera, Chris Brown) on the R&B-flavored groove "Go With Me," a rhythmic, dance-friendly album highlight that draws comparisons to Michael Jackson, sure to be a crowd-pleaser. Gospel music favorite Percy Bady produced the powerful string-filled track "The Word," while the rock-tinged hand-clapper "Where U Are" is one of four songs produced by Andre Harris and Vidal Davis.
Revealed is definitely one of the most unique urban gospel albums to release this year, and it's great to see Haddon in his element. He definitely connects with a demographic that skews younger, and this time around will be no exception. "I believe that gospel music can be just as big as rock—filling stadiums," he explains. "But our music has to reach beyond our religious beliefs to connect on a greater level … That influenced my approach to the songs of Revealed. They are not 'religious' songs so much as spiritual songs that can appeal to everybody."
MySpace





© 2008 GospelMusicChannel.com. All rights reserved. Used with permission.
**This column first published on October 31, 2008.

About Gospel Music Channel
Gospel Music Channel is the fastest-growing network in television and can be seen in more than 40 million homes on various cable systems around the country and on DIRECTV on channel 338. For more information, visit www.gospelmusicchannel.com.