Jones Gets Down to Kingdom Business with Slick R&B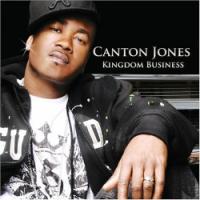 Artist: Canton Jones
Title: Kingdom Business
Label: Arrow
It's about time. That's one of the first things that come to mind when listening to Kingdom Business, Canton Jones' third full-length album. For one, think of the timing: Usher's Confessions happened four years ago, yet there hasn't been anything remotely similar in urban gospel since its release. That is, not until Kingdom Business.
Like Usher, Ne-Yo and Chris Brown, Jones is an R&B crooner who favors slick urban grooves and smooth serenading—not to the ladies, but their Maker. This is a sound that has been done before in mainstream circles, but it's a novelty in Christian music; very few artists, if any, are catering to the urban-pop contingent with the surefootedness of Jones.
This is rhythm-and-praise at its most accomplished, never more remarkable in bangers like "Living Clean" and "The Professional," both of which seem lifted—rap for rap, synth for synth—from the Ludacris and Lil Jon playbooks. That's not necessarily a knock; the vibe may be copycat Dirty South, but the lyricism is entirely Spirit-inspired, as the foundation of just about every song is Scriptural—even when dubious titles like "Pimp Hard" and "Hater Day" may suggest otherwise.
For all its sanctified street posturing, Kingdom Business is a well-produced shot in the arm to an ailing faction of faith-based music. It's almost guaranteed to make fans of the style go, "Yeah!"





©2008 ChristianMusicPlanet.com. All rights reserved. Used with permission.




*This review first published on July 21, 2008.