Kristin Chenoweth's "As I Am" May Frustrate Music Purists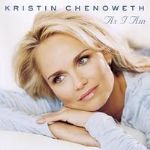 Artist: Kristin Chenoweth
Title: "As I Am"
Label: Integrity/Sony
Multi-talented Kristin Chenoweth delivers her first Christian recording with a style that can only be characterized as "all hers."
Chenoweth delivers an eclectic mix of songs ranging from "Because He Lives" to "Joyful Joyful" to "Taylor, the Latte Boy." Yeah, that's right, the latte boy. But an eclectic mix of songs is exactly what you'd expect from Chenoweth. She is a talent among talents with a style equally fitting on a Broadway stage, a Sunday morning church service, an opera hall or a Women of Faith rally.
This album may frustrate music purists. It doesn't lend itself to typical formula-driven description but instead delivers a sonic smorgasbord. "The Song Remembers When" relies heavily on the accent of a steel guitar, "Upon This Rock" delivers a classic inspirational sound, while "Poor Wayfaring Stranger" offers a folk sound with a tinge of New Age flavor. Not many Christian music artists have the nerve for something like that. But that's exactly the point with Chenoweth. You get the sense she selected these songs because they first sing to her heart. For she isn't just a singer, she is a communicator, probably a derivative of her roots in theater.
This album isn't propped up with typical diva-esque blow-the-doors-off production, either. Instead, Chenoweth's voice breaks through every time and makes the lyrics the real star. Production values become secondary, although I did have to re-set my iPOD after "Upon This Rock."
There is nothing about this project that is not worthy of your consideration, but "Word of God Speak" is worth the price of the album alone.

© 2005 CCM Magazine. All rights reserved. Used with permission. Click here to subscribe.
Check out more Kristin Chenoweth music videos at Godtube.com!