Let Your Glory Fall - Music Review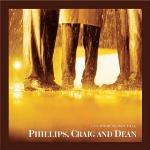 Artist:    Phillips, Craig and Dean
Label:    Sparrow Records
When you hear the phrase "modern worship for a new generation", what's the first thing you think of?  Likely, images of young co-eds with heads lifted and arms raised heavenward cross your mind.  Now, what's even more likely is that you weren't even remotely picturing a trio of fortysomething men.  
But don't let that stand in your way when you listen to Let Your Glory Fall, the 10th album from Phillips, Craig, and Dean.  This trio of ministers, worship leaders, and songwriters succeed with a refreshing take on some of the best modern worship out there today.  And that's perhaps due in large part to returning and on-the-rise producer, Nathan Nockels (also of Watermark). 
Following up Let My Words Be Few, the trio's most successful album to date (so there's no pressure there), Nockels takes the less-is-more approach on Let Your Glory Fall by stripping away that typical PCD sound of layer upon layer of vocals and offering a more vulnerable, organic experience. 
New interpretations of seven worship standards ("Every Day", "Here I Am to Worship", "Lord Let Your Glory Fall", "Hallelujah [Your Love Is Amazing]", "The Wonderful Cross", "Fall Down") are combined with three new songs written by PCD members.  Dan Dean's album opener "My Praise" sets the praise in toe-tapping motion with heartfelt lyrics, and Randy Phillips "Only You" should be headed as a soul-stirring anthem to a church near you very soon.  But it is Shawn Craig's "What Kind of Love Is This" that stands apart--if just for the lyrics alone:  "What kind of love is this/ That climbs the hill/ That bears the cross/ That takes the nails...." 
While their brand of praise may not be as aggressive as you might think "modern worship" is supposed to be, PCD's Let Your Glory Fall is music for any generation.  Pure and simple.  And worshipful.
Click here to subscribe to CCM Magazine.