"Mammoth City Messengers Volume I" - Music Review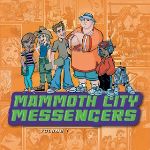 Artist:    Mammoth City Messengers
Label:    ForeFront
Picture this:  A group of talented youngsters sings upbeat pop and performs an animated drama depicting a good-versus-evil saga. That's the essence of "Mammoth City Messengers Volume 1," the first in a three-part soundtrack series accompanied by companion comic books, an interactive Web site (www.mammothcitymessengers.com) and a 15-episode radio program, all aimed at reaching "tweens" (kids ages 6 to 12).
Created by producers Matt Bronlewee (Jars of Clay, dc talk) and Jeremy Bose (Across the Sky, Wes Cunningham), the 20-track project alternates between brief fictional scenes and electronic pop- and rap-inflected tracks. Slick production and fast pacing make for a distinctive aural experience likely to resonate with young listeners.
The host of bouncy scenes unveils five improbable middle school students attempting to make a positive impact on their Mammoth City community while struggling against the formidable Evel Beetle, a billionaire tycoon who's attempting to control young minds. Listeners who follow along with the comic book, written by Homecoming Magazine's Managing Editor Chris Well, should remain captivated; but those who simply hear the CD will have to listen closely to keep up.
Musically, the soundtrack offers glossy power pop that recalls the more manufactured stylings of Jump 5 and ZOEgirl – hence it should appeal to girls as much as boys. The 10 tracks feature songs that speak of trusting God for protection ("Jumping Inside"), dealing with fear and loneliness ("Hang On") and relying on Him when life gets tough ("Boomerang" and "Time").
"Mammoth City Messengers" offers kids an enjoyable and engaging alternative to mainstream comics and music. ForeFront should be commended for creating such relevant content for the growing but underserved tween demographic.

© 2004 CCM Magazine.  All rights reserved.  Used with permission.  Click here to subscribe.