Mandisa Shakes Things Up with Overcomer
Christa Banister

Crosswalk.com Contributing Writer

2013

10 Sep

COMMENTS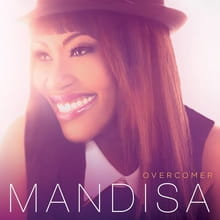 Artist: Mandisa
Title: Overcomer
Label: Sparrow
Considering how quickly artists and musical fads can move in—and out—of fashion these days, it's particularly remarkable when an artist not only sustains the public's interest but continues to improve upon what made him/her popular in the first place.
Case in point: American Idol alum Mandisa. While her 2007 debut True Beauty definitely put her on the map, she's arguably making music that's far more intriguing six years later. In what's an engaging and decidedly experimental follow-up to 2011's exceptional What if We Were Real?, Overcomer is easily Mandisa's best effort yet.
In the grand tradition of her previous albums, Overcomer is the soundtrack for anyone who's battered, broken or simply needs encouragement. Without being a bummer or resorting to well-worn clichés, Mandisa is the trusted friend who always points the listener to the true Hope.
Whether it's in the anthemic strains of "Praying for You," the buoyant reminder of how trials turn to gold in "Press On" or the beauty of experiencing the proverbial light at the end of the tunnel in "Joy Unspeakable," Mandisa gets to the heart of the matter in a way that's honest, thoroughly relatable and sticks with you.
But what makes Overcomer a true superstar, however, is that it's clear from the first track that Mandisa had a whole lot of fun in the studio. Instead of sticking within the familiar pop/R&B wheelhouse of her previous works, she spans the genres with a variety of new timbres and textures.
By adding an element of musical surprise to the proceedings (to wit, she even gives dance/pop and techno a satisfying whirl), Mandisa's strong set of pipes shine even brighter. And as far as the underlying message is concerned, the joyful accompaniment is the perfect counterpart for a message rooted in the soul-saving, redemptive power of the Gospel. Yes, Overcomer has plenty of good news indeed.
*This Review First Published 9/10/2013