Michael W. Smith and Leeland Mooring: Eye 2 Eye
Jay Swartzendruber

2007

26 Jan

COMMENTS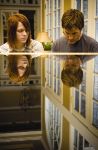 If you were Michael W. Smith and you were looking to release a new album, what kind of record would you make?

After all, this would be your first album in two years, and the musical landscape has changed significantly. Today's Christian album sales chart tends to be dominated by rock acts such as Underoath, Flyleaf, Jeremy Camp, Jars of Clay, Third Day and BarlowGirl. And imagine if you'd known that a little over a month before your record came out, the No. 1 selling Christian album would be "Redeemer" (Solid State) by Norma Jean, a hard core metal band.
Your specialty? Pop.
"I didn't have any preconceived ideas, and I certainly wasn't going to try to be worship or be rock or whatever just to try to play it safe," says Smith. "I've never done that, nor will I ever." A lesser man might have been tempted to release a worship album. After all, Smith has led worship at his church for six years, and, then, there's the little fact that he's released two worship records since mid-2001 that have sold a combined 2.4 million copies. 
"First of all, I've got to be who I am, and, next, I've got to reinvent myself," he continues. "It's as simple as that, honestly. That's a real challenge – how you really stay true to yourself when you're trying to reinvent. If I've done anything right, I think I've reinvented over the years."
Indeed, during the span of his remarkable 23-year career, Christian music's leading man has stretched the comfort zone of his adult contemporary reputation with successful albums individually defined by rock, crossover pop, modern worship and, even, instrumentals.
But this time around? Unprecedented. To help him frame the heartbeat of his new album, Smith turned to a teenage kid from Texas. In fact, he would go on to give the young fella more songwriting responsibilities than he's given anyone since his storied partnership with Wayne Kirkpatrick.
That begs the question: What was he thinking?
"That's just not like me," the 48-year-old Smith says. "I'm going to co-write – sorry – with a 17-year-old kid? I didn't even know him!"
You could say the idea came out of the blue. Or, as Smith puts it, "It was all providential."
Change Your World
Flashback to late March, right before the Gospel Music Association's GMA Week. Thanks to a rare opening in his schedule, Smith took the opportunity to attend a Provident Music Group showcase at The W venue near Nashville. That night he discovered his favorite new band – Baytown, Texas' own Leeland – and more.
"I was blown away," explains Smith. "Literally, I felt like I was plastered against the wall. I sensed in my spirit that this is something extremely rare. I hope it's not because I've hardened my heart. I don't think that's the case. I just have a hard time finding something that moves me."
To say that he was simply moved by Leeland wouldn't be the half of it.
"Finding something moves you that is authentic and there is something about the spirit of it … that is what took my breath away." At this point, Smith, who is hosting this interview in his own Deer Valley Studios, gestures toward the musician seated to his left and says, "It was this guy here delivering those songs."
This guy is Leeland's front man, Leeland Mooring. As the kid hears Smith's praise, Mooring bows his head, his face, slightly changing color, begins to blend with his red hair. This wouldn't be the first time his modesty would manifest itself on this September night.
"When I left The W," continues Smith, "I got Terry [Hemmings, president and CEO of Provident] and said, 'I want a copy of their music.' I got a CD of seven songs the next day and just put it on non-stop. I couldn't believe how good it was. So that was when I went to [producer] Matt Bronleewe going, 'Hey, you worked on the Leeland record. I got a wild idea: What if we brought Leeland Mooring in and I co-wrote with him?"
Then Smith put in a call to Baytown, Texas.
Place in This World
"So I picked up the phone," recounts Mooring, who's now 18, "and he said, 'Is this Leeland?' I said, 'Yeah.' He goes, 'This is Michael W. Smith.' And I dropped the phone! I opened the door and told my mom [whispering], 'This is Michael W. Smith! This is Michael W. Smith!' like flipping out. So she's quietly freaking out. After I got off the phone with him, and he wanted me to come write with him, I flipped. I started screaming like a little kid. I was like, 'I'm going to write with Michael W. Smith!' I was running around the whole house."
Giving Smith a glance, Mooring says, "That night you came to our concert, my mom was saying, 'There is a reason he came to that. God had him come for a reason. You mark my words.' We're all kind of laughing at her. We're just like, 'Whatever, Mom. He came. Don't want to make too big a deal of it.' But she kept saying, 'You mark my words.'
 
"It's funny because I remember even a few years ago, when I was 14, she told me, 'Leeland, one day you're going to get to write with Michael W. Smith. I really believe that.'
"There is something about a praying mother that always has kind of a discerning spirit about stuff," he opines. "My mom is constantly praying about God's will for our lives and our ministry. We believe in divine appointments and divine connections – people that are put in your life because God's put them there."
The Moorings aren't the only ones who believe in divine appointments.
Old Enough to Know
"My eyes are peeled for the supernatural," reveals Smith. "I'm open. I'm always looking for 'God, what do You want to do? What am I supposed to be about?' And then, 'Who am I supposed to be involved with?'
"Who am I to try to protect my turf? I'm so past the whole trying to be a star, trying to make a name for myself ... I feel like the spirit of Christ lives inside of me, so I've got a fairly good thing of discernment. I just kind of sense things. I feel like his mom did. When I first heard Leeland, I thought, 'I'm going to end up working with this band on some level.' I just knew it in my heart. And, then, to see when I fell in love with his mom and dad and the whole band. Then, my kids – we see them all together – I mean, it's wild. And they just all love each other. Everything has just been mind-boggling really."
Hearing all this, one can't help but wonder if this unusual connection is unprecedented in Smith's life. What about all the younger artists he's bonded with and encouraged over the years – especially at his own record label, Rocketown? Is there a comparable friendship with another singer/songwriter in his history?
"I don't think so," says Smith. He affirms his love and respect for Chris Rice, Ginny Owens, The Turning and The Swift before stating, "For some reason there is some sort of heart connection – spirit connection – with [Leeland Mooring and myself]. I can't explain it. It's just the strangest and most wonderful thing really.
"I have to go back to – there's something providential about this whole thing." And then Smith drops a doozy. He describes Mooring in a way one might assume he'd reserve for personal friends such as the Rev. Billy Graham, President Bush or even U2's Bono. "I have a real sense that there's just a special, high call of God on his life in terms of doing some great things to impact the Kingdom here on earth. Of anybody that I know – I've never met anybody where I've really sensed that. He's got it. I'm going to really enjoy watching this thing unfold."
Once again, Mooring's head is bowed.
Smith continues, "Maybe I'm supposed to hold his arms up. Maybe that's all I'm simply supposed to do. And provide platforms for him – lift this man up because I think he's going to be an incredible tool for God."
Human Spark
And lifting him – and his band – up is exactly what Smith has been doing. Even just days after he first saw Leeland perform, Smith spoke to a small gathering of media VIPs during GMA Week in Nashville. His stunned audience listened attentively as he steered the conversation away from the planned topic, which was his forthcoming album, electing instead to tell them all about his favorite new band and its soon-to-release CD.
And that band, rounded out by Mooring's older brother Jack Mooring (keyboardist/co-writer), who's a Smith favorite in his own right, their cousin Jake Holtz (bassist), Jeremiah Wood (guitarist) and Mike Smith (drummer), felt the immediate ripples. Mooring describes what they encountered during their GMA Week press interviews. "People from different magazines kept coming in, and they'd say, 'We've been waiting to talk to you guys. We got out of a meeting with Michael W. Smith. The whole time he just kept talking about you guys.' We kept having all these people say the same things. 'Michael kept talking about you guys and didn't talk about himself. We kept asking about him, but he kept talking about you.' So it was very encouraging to us. Our album wouldn't be what it is right now at all without his support."
Simply put, Smith's support helped stir up a new artist buzz reminiscent of the anticipation preceding Delirious' bow in 1998. And, sure enough, when Leeland's "Sound of Melodies" (Essential) released in mid-August, it was the No. 5 selling album at Christian retail stores its first week out. And Christian pop radio's response? The band's title track, "Sound of Melodies," served as the first single and quickly climbed to No. 6 on Radio & Records' Christian Hit Radio chart. At press time, the song was still in the Top 25.
Leeland's "Sound of Melodies" album is that rare breed of recording which is distinctly different, yet extremely accessible to a wide audience. For starters, the band's modern rock sound is clearly set apart from anything in Christian music, and is every bit as engaging as the general market's most touted young bands. Leeland's guitar-infused rock is muscular one moment, gentle the next. And while "worship" is the word most often used to describe the band's lyrics, Leeland is unusual in this area as well. One listen to the "Sound of Melodies"' 11 songs reveals an unusual blend of spiritual intimacy,  down-to-earth, poetic phrasing and, for lack of a better way of putting it, a tender-heartedness.
Michael W. Smith Project
So how would this unique band's front man and principal songwriter influence Michael W. Smith's new album? Of the 11 songs on the CD, titled "Stand" (Reunion), the kid co-wrote six songs and completely wrote a seventh himself.
When you hear Mooring describe how he came to write most of "Stand"'s song "Open Arms," you get some clear insight into the creative heart that Smith is so drawn to. "I went back in [my] room one night and was praying, 'God, let Your will be done in this writing session. If You want me to play anything, let it be something that You've given me,'" he recalls. "And I had an acoustic guitar on the bed in the bedroom. I couldn't stop thinking about God's love because I began to think about all the time that people – friends and family – have put into ministry. They have never really seen much success from it, you know? A lot of people give and give and give, and they never really receive much – especially people like my parents who have been doing it for so long.
"So I was in my room and began to cry because I was thinking I don't deserve to be in this place right now. If anybody should be writing with Michael W. Smith, it should be my dad. He's pastoring a church in little Baytown and has the heart of a servant. So I was sitting there, just crying, thinking about God's love. And then I began to think about how the church needs to be open arms of love to the world. And that night, God just completely dropped that song, "Open Arms," pretty much right there in the room."
During the conversation, sometimes it's easy to forget you're speaking to a guy who's in his late teens. But this is the same kid who went gonzo when "W" first called his house. As Smith puts it, "It's weird because, when we get together and create, it's such a serious thing – fun, but serious. And then, all of a sudden, when we break and he's at the house, he's like a 17-year-old kid! He and my kids are all going crazy, being nuts."
Hearing this, Mooring pipes in, "Nigel MacNeil, a guy our family travels with, would always say that. He has a real strong Australian accent. He's a real straightforward guy. The way he'd say it was not to be mean but just his humor. He was talking to my mom and said [mimics thick Australian brogue], 'I've never seen a young boy that can get up on a stage and minister under the anointing of God like someone who has been in the ministry for 20 years and then walk off the stage and act like a five-year- old child – act like a little devil.'"
At this, the room erupts in laughter.
Giving Mooring such a large role in "Stand"'s creation wasn't Smith's only bold step with the album. Not even close. For the first time in his career, he completely relinquished his role as a producer on this, his 19th album. Instead, "Stand" was helmed in its entirety by Matt Bronleewe, who also served as one of the record's key co-writers. Smith, the quintessential keyboard player, also agreed not to include synthesizers or programming on this album. His vocals, meanwhile, were recorded "dry" – free of reverb and electronic delays. And, to top it all off, "Stand" was recorded in less than 45 days. Each departure was significant, and it shows.
As Bronleewe states on his infuzemag.com blog, "We tracked with a full band at the famed Dark Horse Studios. The band was a collection of some of the best players in the business, including guitarists Bruce Gaitsch (Madonna) and Paul Moak (Mat Kearney), drummer Lindsay Jamieson (Ben Folds), bassist James Gregory (Shaun Groves), keyboardist Patrick Warren (Fiona Apple) and Michael W. himself manning the piano. It was an amazing time in the studio, with the players listening intently to each other and reacting to each other's cues. I wanted this record to sound 'real,' not 'processed,' and I'm happy to report that having such a stunning pool of talent assembled at the same time in the same studio helped to accomplish that goal.
"…I don't know how to best characterize the nature of these songs," he continues, "but I can definitely tell you that it's different from anything Michael W. has ever done. The sound is different too, more raw, and more focused on individual instruments than a big sweeping wash of sound. There's influences from early Elton John and the Rolling Stones, as well as newer influences like the latest records from Bruce Springsteen and Paul McCartney."
Mooring's take on the album as a whole highlights Stand's mass appeal. "After hearing all of the recordings and all of the production of it, I was like, 'Man, this is cool stuff,'" he says. "Stuff that like I [am] listening to, you know? This is stuff I know my friends would listen to."
The Big Picture
As the conversation nears its conclusion, the topic turns back to the friendship the two share and what it means to Mooring. "I know I can run to Michael for advice about things," he says. "So, to me, in a sense, he's more than just a friend, he is a mentor – a strong champion who is back in the corner, who has been doing it for so long and that I can run to and say, 'Okay, hey, what do I do in this certain situation? What is your advice on this?'"
Can you imagine being a new artist and having Smith speak into your life like that? True, Mooring has much to be grateful for. But that gratefulness is a two-way street. And, when you hear Smith speak about him, it's clear his appreciation for Mooring expands beyond the kid's musical abilities and, even, their personal friendship. As Smith has already indicated, he believes there's something much bigger going on here.
"Most bands want to be rock stars," he says. "And I don't get any sort of sense that [Mooring and his band] want to be rock stars. To know how he writes songs – he starts praying, and he starts weeping on the floor. During that, he writes "Tears of the Saints" [from Leeland's "Sound of Melodies"]. That's pretty rare for a now 18-year-old teenager – weeping for God, who has a real heart for God. That is rare in this business. I think God's going to honor that. Plus, I think he's got an enormous amount of talent. I think we haven't even begun to see what God's going to do with this band and with him."
One thing's for sure, you can bet we'll be watching.


© 2006 CCM Magazine.  All rights reserved.  Used with permission.   Click here to subscribe.