Michael W. Smith Still "Has the Dream" on New DVD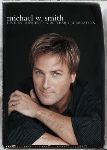 Artist:  Michael W. Smith
Label:  Reunion
Considering that Michael W. Smith's last non-worship  video released more than a decade ago, it's only fitting for the superstar to release a live project once  again, and for what better reason than his 20th anniversary?
The "Live in Concert – A 20 Year Celebration" DVD correlates with "The Second Decade" collection released last fall, both of which chronicle the historical impact and musical growth of the entertainer since 1993. The set list starts out with a pair of tracks from that time period – the arena filling "I Still Have the Dream" and the latest single, "Signs" (co-written by Michael's son, Ryan and Wes King). Both bring the crowd to an immediate standing ovation and resound with Smitty's robust pop. He then blasts back to the past for slightly modernized versions of "Rocketown," "Wired for Sound" and "Secret Ambition," all of which conjure  up sweet nostalgia for the older audience members.
The electric edge takes a break for a solo piano set where Smith incorporates much of his "Go West Young Man" material into a medley. "For You" features comedic improv in lieu of the normal Beatlesque horn solo, "Love Crusade" is updated with a reggae splash, and "Place in This World" adapts a more sparse approach. The inevitable tearjerkers, "I Will Be Here for You" and "Friends" follow nicely with the crowd's traditional background singing.
And, of course, no career retrospective evening would've been complete without a cameo by Smith's frequent collaborator, Amy Grant, who contributes "Lead Me On," "El Shaddai" and "Thy Word." Having the two superstars on the same concert stage is truly a throwback to the old days, reminding fans of the power in that partnership. Following the surprise Grant set, Smitty effectively wraps up the evening with worship, leading the audience through thunderous choruses of "Above All," "Agnus Dei" and "Awesome God."

© 2004 CCM Magazine.  All rights reserved.  Used with permission.  Click here to subscribe.