More Satirical Commentary From FM Static on "Ashamed"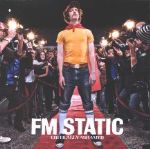 Artist:  FM Static
Title:  "Critically Ashamed"
Label:  Tooth & Nail
FM Static is the alter ego of Thousand Foot Krutch's front-man Trevor McNevan and drummer Steve Augustine. Their 2003 debut, "What Are You Waiting For," delivered surprising bite and wit to Christian radio and saw the one-time side project develop into a full-blown touring entity.
"Critically Ashamed" delivers melodic pop songs with nods to Fountains of Wayne, Weezer and the lighter side of blink-182. The first half is heavily weighted toward satirical barbs and pop culture reference overload. FM Static starts by skewering shallow pop culture ("Flop Culture"), false celebrity praise ("The Next Big Thing") and perverted desire for attention ("America's Next Freak"). "Flop Culture" addresses "the good old days" with a chorus asking, "Can ya tell me what happened to Michael Jackson?/ And MTV tradin' music for acting/ Avril Lavigne's on the cover of Maxim/ Whoa–oh."
"America's Next Freak" comes out of the gate name checking any number of scene-sters trying to fit in before declaring, "And I never tried to be your trend/ Never asked to be everyone's friend/ I'm just who I am/ And that's life for real."
From there, the record delves into themes that generally cover girls ("The Video Store"; "Girl of the Year"; "The Moment of Truth") or spiritual yearning ("Tonight"; "A Nice Piece of Art"; "Waste of Time"). The band delivers much more on the lyrically lighter fare, with the more introspective material falling into generic territory.
The satire that dominates the front half of the album is bound to attract the lion's share of attention, with the bountiful ironic pop culture sourcing evoking both chuckles and eye rolls. The lyrical punch lines are hit and miss, such that, even with tongues planted firmly in cheek, a lyrical foil may have helped the proceedings. And, ironically, the most up-tempo material sometimes suffers from a lack of energy in the recording. These songs scream to jump out from the speakers but can't quite muster the momentum to do so.
"Critically Ashamed" is a solid, if not remarkable, follow-up for the band. No new ground is broken; but no steps backward are taken either. FM Static holds a unique position as charming satirical commentator and court jester. With some lyrical fine-tuning and sonic expansion, the potential for greater things is its for the taking.

 


© 2006 CCM Magazine.  All rights reserved.  Used with permission.   Click here to subscribe.