Nicole C. Mullen's "Everyday People" a Cure for Music Blues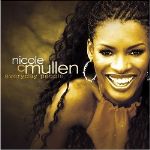 Artist:  Nicole C. Mullen
Label:  Word Records
Admit it. Someone just happens to say the words "everyday people," and the tune immediately comes to mind. Yes, the classic by Sly & The Family Stone has been around for ages, and it may seem too tired to work as an album title. But the meaning behind the words goes far beyond one song as it encapsulates what Nicole C. Mullen wants to express on her latest studio album.
Whether upbeat, calm or a full-on soaring ballad, each song communicates the hope found in Christ and deals with "everyday" concerns — from insecurity to depression to love and even death. Mullen's signature, crystal-clear tone graces the soft notes as well as the more exuberant, often within the same song.
"I Am" is a gorgeous, worshipful selection which begins smooth and laidback, building to a powerful finish and accented with lyrics such as "I am the Rose they crucified and buried." "Bye Bye Brianna," written in memory of a little girl who passed away, carries a somber tone and yet concludes with sounds of celebration and the uplifting message: "I see you in the daylight."
But the focus on other people doesn't stop here. Also known for being socially conscious, Mullen addresses the issue of Troski slavery in Ghana in the song "Gon' be Free." The tribal drums and vocals that open the track with an African vibe are the perfect background for a song about a people's cry for freedom. "Who the Son sets free is absolutely free indeed," sings Mullen, with a chorus that begs the listener to stomp and clap.
"Deity" features spoken vocals as well as a tune worthy of humming along. Of course, every album needs a strong finish, and "Valorie" is all that and more. Culminating with layers of orchestration, choir vocals and the reading of Psalm 23:4, its message is turning to God for comfort during the tough times.
The production on "Everyday People" is impressive throughout all 14 tracks — even on those that try a little too hard to be pop radio hits ("Message for Ya" and "This This"). Sharing the production responsibilities with Mullen and her husband, David Mullen(VeggieTales, Carman), are Tommy Sims (CeCe Winans, Taylor Dayne), James "Big Jim" Wright (Usher, Mariah Carey), Andrew Ramsey (India.Arie, Kimberly Locke) and Shannon Sanders ("Shark Tale" soundtrack, The Temptations), who each bring varied experience and a fresh perspective to the project.
While it's true that Mullen would sound amazing singing just about anything, she brings soul and feeling to this collection of encouraging, real-life songs.

© 2004 CCM Magazine.  All rights reserved.  Used with permission.  Click here to subscribe.