No Sophomore Slump for Jonah33 on "The Strangest Day"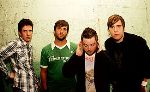 For those whose appetite for energetic modern rock was whetted by Jonah33's eponymous 2003 debut, round two will undoubtedly hit the spot. The Arkansas-based foursome has a sizzling single on the charts and a new album on the way.
"The Strangest Day" is due out December 29, and the first single, "Tell Me," a blistering all-out rocker that addresses trust issues between people of faith and nonbelievers, has become a Top 15 hit on the R&R Rock charts. Single No. 2, "This Is It (You Instead of Me)," an emotive, mid-tempo tune awash in layers of electric guitar, packs a lyrical punch about living an unselfish life.
The alt-rock band, comprised of front man Vince Lichlyter, guitarist Jason Rooney, bassist Cory Riley and drummer Joshua Dougan, borrowed its moniker from the Bible verse Jonah 3:3, a reference to Jonah's journey to Nineveh at God's request. Lichlyter often fills his songwriting with lessons gleaned from his own journey, one which began during his troubled teens in Seattle and ultimately led him to small-town life, music and faith.
Fans got an early taste of Jonah33's newest set during "The Strangest Day Tour" in October, featuring fellow rockers Olivia the Band, Grand Prize and rapper Mannafest. For most of November, the quartet has been on the road with label mates Todd Agnew and Joy Whitlock.
The members of Jonah33 have discovered a potent combination – music that is hard-hitting to both the ears and the soul.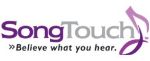 © 2005 SongTouch.com.  All rights reserved.  Used with permission.  Shop for gospel music and Christian church music downloads at  SongTouch.com.