Paul Colman's "Let It Go" Leans Toward Standard Pop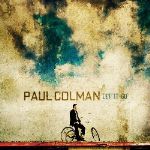 Artist:  Paul Colman
Title:  "Let It Go"
Label:  Inpop
Christian music fans in America know Paul Colman best as the leader of his Trio, which released two highly regarded albums and won accolades including a Dove Award for "New Artist of the Year" in 2003. But Colman, who disbanded his group last year, is no stranger to life as a solo artist. Before the trio, he released three independent albums and traveled the globe. Clearly, it's in his blood.
Perhaps that's why "Let It Go" is less a solo revelation and more an extension of what Colman has done all along — smart, European-flavored power pop.
This time, Colman is surrounded by top Nashville producers and writers, including Ed Cash (responsible for Chris Tomlin's excellent "Arriving"), Newsboy Peter Furler and worship leader Jason Ingram. Even so, the guitar-driven rock and Colman's strong but understated vocals will be instantly recognizable to fans of his trio's "New Map of the World" and "One."
The acoustic-driven "The One Thing" launches the album with a Paul Wright- meets-John Mayer vibe, with Colman revealing themes of soul searching, questioning and, ultimately, finding rest in God. "I've questioned significance, meaning and relevance/Does the work I'm doing really matter at all?" he sings before answering: "But the one thing I don't question is you."
Songs like "I'm Coming Home" and the melancholy "Last Night in America" offer similar thoughts, but the best is "Sweet River." On it, Colman shifts from brooding, tribal-drummed verses to a lush chorus, perfectly matching lyrics about a dark night of the soul that gives way to blessing.
About the only thing missing from Colman's trio days is that band's slightly edgier treatment. With all the Nashville cats playing, "Let It Go" leans toward standard pop rather than the focused tightness of three guys rocking. But his sweet melodies and vulnerability allow him a free pass on that one.

© 2005 CCM Magazine.  All rights reserved.  Used with permission.  Click here to subscribe.