Red Breaks Through with Innocence & Instinct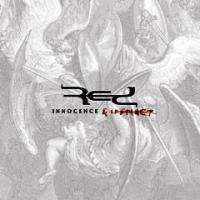 Artist: Red
Title: Innocence & Instinct
Label: Essential Records
A major breakthrough for these mainstream mega-stars …
Even though Red found its initial footing in the Christian market and remains unashamed about its faith, the heavy rockers are now bonafide mainstream superstars. Following 2006's GRAMMY-nominated End of Silence, the group toured with the likes of Sevendust, Buckcherry, Three Days Grace, Puddle of Mudd, Staind and Seether, while also scoring a slew of secular singles. No wonder anticipation for the band's second CD has been building to a fever pitch, which unlike most sophomore dips in the road, actually surpasses the crossover act's exceptional debut.
Much of the expansion in sound and lyrical substance is likely the result of refinement on the road, which is noticeable in the ultra-tight riffs of "Fight Inside" and the bellowing banter of front man Michael Barnes with his conscience during the hardcore-tipped "Death of Me." Even with the pummeling performances, Red maintains its melodic charm, with "Mystery of You" earning additional strength from a stirring string section. Come "Never Be the Same," the guys showcase their acoustic and stripped down side, but still present plenty of power (similar to Skillet's recent material).
Fans of '80s icons Duran Duran will certainly find a cover of "Ordinary World" incredibly inventive, while those who were born well after that track first hit the airwaves can still identify with its message of striving for societal utopia. Of course, Red's grounding in Christ still remains rock solid as evidenced throughout the cleansing cries of "Confession (What's Inside My Head)" and the piano-bathed prayer of surrender "Take It All Away." It's a fitting way to start a new year that not only finds the foursome exploding with intrigue across all 10 tracks, but potentially expanding its ministry platform even wider than the first time around.


© 2009 CMCentral.com. All rights reserved. Used with permission.




Visit CMCentral.com now and join the single largest online community of Christian music fans on the internet. CMCentral features daily music news, exclusive interviews, album reviews, weekly devotions and feature articles written by some of your favorite Christian artists, and much more. CMCentral is also the home of the most popular Forum for Christian music fans that you'll find anywhere on the Internet. Come see what all the buzz is about!

**This review first published on February 5, 2009.