Stellar Kart Does the Impossible with Pop, Rock and Punk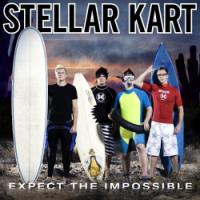 Artist: Stellar Kart
Title: Expect the Impossible
Label: Word
Though Stellar Kart's brand of mall punk might not possess enough punches to keep the genre's purists coming back for more, the band consistently connects with the youth group crowd.
On its third effort, Expect the Impossible (again featuring Ian Eskelin as producer), the players incorporate additional angles of pop, modern rock and upbeat punk. The result is a palatable, though in many cases, still too simple sonic and spiritual outpourings. Opening cut "Innocent" and "Eyes," are examples of noticeable growth, anchored by synth-slapped dance grooves reminiscent of ASU, Fountains of Wayne and Motion City Soundtrack.
Yet there are still several examples of generics, most glaringly the power ballad "Jesus Loves You," which may intend to spread an evangelistic message, but gets lost in cheesy delivery (not to mention recycling a similar formula as 2007's Dove Award-winning single "Me and Jesus"). The power pop streaked "Sunshine" abounds with palatable harmonies, but it's a little too perky for its own good. Luckily the escalating "Letters" brings up the rear with a more memorable flare (addressing the topic of loneliness over emotional drum rolls and orchestration), but still can't provide enough steam to make Stellar Kart's latest a full step forward.





© 2008 CCM Magazine. All rights reserved. Used with permission. Click here to try a free issue.