Schlitt Returns to Solo Work with The Grafting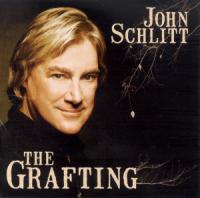 Artist: John Schlitt
Title: The Grafting
Label: TAG Artist Group
New CD builds former lead singer's legend of rock …
Twelve years have passed since John Schlitt released his last solo recording. Since then, the infamous rocker, best known as Petra's front-man, added a fourth GRAMMY to his collection, was inducted into the Gospel Music Hall of Fame and Hard Rock Café and released six more Petra records before adding his farewell to the band's final stand in 2005.
A mainstay in Christian rock since his debut with Petra in 1986, Schlitt has remained uncharacteristically quiet since the band's retirement, leaving fans to wonder if his absence from the industry he so carefully helped define was permanent.
Fortunately for fans, a classic rocker rarely stays silent. Picking up where 1996's Unfit for Swine left off, Schlitt releases The Grafting, soaring through 10 new recordings that service the legacy he began over 20 years ago.
In "Only Men," Schlitt demonstrates the heavy-hitting power ballad that has become synonymous with his musical persona. "Stand" and "Gravity" pack the heaviest punch, while "Face of God" and modern worship standard "Lord Have Mercy" play less rock more pop, the latter paying homage to Petra Praise, the band's worship trilogy and biggest commercial success. Surprisingly, the title cut, a laidback acoustic comment on adoption, provides the album's highlight, shuffling through a refreshingly easy four minutes of melody and lyric.
Produced (and largely written) by his son-in-law and drummer extraordinaire Dan Needham (Katinas, Steven Curtis Chapman), The Grafting's tracks are sonically cogent. The most distinctive ingredient remains Schlitt's trademark vocal, a wonderful throwback for an entire generation of Christian music fans.
Though the record is strong and Schlitt has nothing to prove, it would be enjoyable to hear something truly progressive from the rock vet, perhaps taking a cue from last year's monumental Robert Plant/Alison Krauss collaboration, stepping outside his own nostalgic sound while staying true to the musical inclinations that have made him a rock legend.

©2008 ChristianMusicPlanet.com. All rights reserved. Used with permission.



*This review first published on July 4, 2008.