"Smash Ups" - Music Review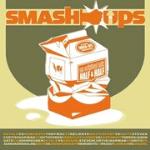 Artist:    Various
Label:  Sparrow Records

Imagine a feud between two stereos where one is blasting Relient K's "Pressing On" and the other is blaring tobyMac's "Yours," and that's the effect listeners will get with "Smash Ups."

Some mixes are more successful than others:  The rhythmic guitars from Earthsuit's "One Time" add a fantastic foundation to Rebecca St. James' vocals from "God," but using the music from "Jesus Freak" to back up ZOEgirl's "Dismissed" just leaves a longing to hear the dc Talk original.

However, both Newsboys tunes are enhanced with the soundtracks they are paired with, while The Benjamin Gate's "All Over Me" is drowned out by John Reuben's raps. The first track fares the best when it mixes the three hits "Get Down", "Dive" and "All Fall Down" and is the most impressive overall, musically and lyrically.

Used by permission.  CCM Magazine © 2003  Click here to subscribe.