Sonflowerz Shows a Sunny Side All Over the World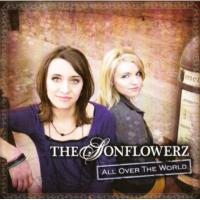 Artist: The Sonflowerz
Title: All Over the World
Label: Sonflower Records
Sunny sounds across less engaging lyrics ...
British-American sister act Elissa and Becca Leander technically began their musical partnership nine years ago, though The Sonflowerz's debut disc hit streets in 2002.
From then until now, the girls with guitars have opened for the likes of BarlowGirl, Jeremy Camp, Kutless and Sanctus Real, plus put the finishing touches on their third disc, All Over the World. Though the group doesn't reinvent the pop/rock wheel across the latest effort's 11 cuts, there's an appealing sunny side to its acoustic-centered craftsmanship, making it particularly enjoyable in summertime settings.
"Edge of My Seat" abounds with brightly shining harmonies along the lines of an edgier Point of Grace, while "Like No One Else" is especially catchy and artful with its instrumental spread between briskly strumming acoustics and full band electrification.
Unfortunately, some of the selections are weighed down by overly cheerful lyrics that border on cheesy at times, starting with the opening cut "All Over the World" and its somewhat repetitive chorus about spreading the gospel across the globe. While the message of rebirth during the calmer "Face the Son" is of course vitally important, it's peppered with clichés and could benefit from a less trite title.
Even so, The Sonflowerz lean toward the right track, and with a little refinement in the lyrical department, the duo is sure to gain additional prominence in spite of its indie status.



© 2008 CMCentral.com. All rights reserved. Used with permission.




Visit CMCentral.com now and join the single largest online community of Christian music fans on the internet. CMCentral features daily music news, exclusive interviews, album reviews, weekly devotions and feature articles written by some of your favorite Christian artists, and much more. CMCentral is also the home of the most popular Forum for Christian music fans that you'll find anywhere on the Internet. Come see what all the buzz is about!

**This review first published on August 11, 2008.